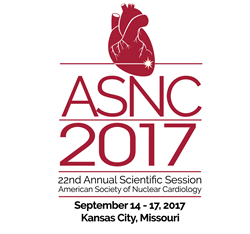 Bethesda, MD (PRWEB) March 09, 2017
The American Society of Nuclear Cardiology ASNC2017 Program Committee is now accepting abstract submissions for its 22nd Annual Scientific Session, held Sept. 14-17 in Kansas City, Mo. Deadline for submissions is Friday, April 21.
The Committee invites physicians, scientists, technologists, fellows and residents to submit original scientific abstracts for presentation at the meeting. The ASNC2017 Abstract Submissions Site is now open and will be available until the submission deadline on Friday, April 21 at 5:00 PM EST.
New this year: monetary prizes for the top two clinical and top two basic science/technical posters. A committee will review all poster/e-poster presentations during the dedicated poster presentation times and select the top two abstracts in each category. The winners will be announced at the plenary session on Sunday, September 17. The prizes will be $500 for the two top presentations and $250 for the two runner-up presentations.
All accepted abstract submitters will have the option of submitting an e-poster whether the presentation is oral or poster. During each of the dedicated poster times, there will be a limited number of e-posters presented in addition to the standard poster presentations.
Abstract submitters who are in residency/fellows training programs or under the age of 35 have the option of having their abstracts considered for the oral Young Investigator Competition. Each submitter selected for the competition will receive $500 and the overall winner after the presentations will receive an additional $500.
For complete details and submission instructions, visit asnc.org/2017abstractsubmissions
All abstracts presented at ASNC2017 will be published in the July/August issue of the Journal of Nuclear Cardiology.
The Committee encourages all nuclear cardiology professionals to spread the word about the ASNC2017 Meeting and call for abstracts by sharing the information and links below with colleagues and peers in the field, members of organizations or institutions and anyone else who may be interested in submitting their research to be presented at ASNC2017. To share this information via social media, please use #ASNC2017.
Learn more about the ASNC2017 scientific session at asnc.org/asnc2017.
ASNC is the recognized leader in quality, education, advocacy and standards in cardiovascular imaging, with more than 4,000 members worldwide. ASNC is the only society dedicated solely to advocacy issues that impact the field of nuclear cardiology and is working with success to influence regulations to fight onerous private health plan policies – adverting reimbursement declines and fighting for improved payment and coverage. ASNC is dedicated to continuous quality improvement, education and patient-centered imaging, illustrating the ongoing commitment as a leader in the field of nuclear imaging and improving patient outcomes. ASNC establishes standards for excellence in cardiovascular imaging through the development of clinical guidelines, professional education, advocacy and research development. ASNC's members are comprised of cardiologists, radiologists, physicians, scientists, technologists, imaging specialists and other professionals committed to the science and practice of nuclear cardiology. For more information, visit http://www.asnc.org.