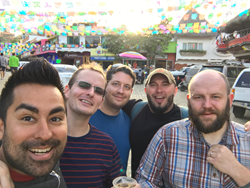 AUSTIN, Texas (PRWEB) March 08, 2017
HomeAway®, the world leader in vacation rentals, featuring more than two million unique places to stay, today announced the winners of its nationwide search for deserving up-and-coming creators in need of last-minute accommodations during SXSW. An independent panel of judges spanning the tech, music and film industries selected two promising groups with big plans for their time at the festival: tech start-up 1 Second Everyday and indie rock trio Edison.
HomeAway has awarded each group a four-night accommodations package, including two nights in the company's two-story birdhouse located in its downtown headquarters, and two nights in a HomeAway vacation rental in Austin. The group from 1 Second Everyday will be in town for the festival's interactive programming and Edison will take over the space for the music track the following week. In their winning entries, both groups cited the need to sleep on floors, in a van, and even outside during previous SXSW festivals due to fully booked, high-priced hotels.
1 Second Everyday is a modern visual diary app that enables users to stitch one second moments of their life into a single, continuous, chronological movie. The app is an Apple staff pick and has been featured on CNN, BBC, Mashable, Fast Company, The New York Times and more. A TED talk about the app's inception has been viewed more than 1.5 million times.
"Living the start-up life isn't always glamorous, especially when you're competing for accommodations with thousands of other festival-goers," said Cesar Kuriyama, founder of 1 Second Everyday. "In the five years I've attended SXSW I've slept in air mattress-filled apartments, and even on a friend's front porch after getting locked out of the house. Having a nice place to stay and host meetings with investors is going to be a huge boost for our company as we approach a critical juncture in our growth."
Edison is an indie rock trio from Colorado that has quickly emerged as a musical force, building a substantial fan base thanks to the group's high-energy live shows and tireless touring efforts. The band has toured nationwide, playing notable shows alongside the likes of Iron & Wine, Langhorne Slim, Nathaniel Rateliff & The Nightsweats and Gregory Alan Isakov.
"Winning this stay is a game-changer for our band," said Sarah Slaton, singer and guitarist for Edison. "We have a full schedule of performances this year at SXSW and our plan was to sleep in our van, Morrison. Needless to say, we weren't anticipating on getting much rest. Now we have a place to relax, sleep, shower and focus one-hundred percent on preparing for our shows during this very important week of music. We're pinching ourselves!"
The winning groups were selected by a panel of judges, including industry experts across creative fields:

"In reviewing the entries, we critiqued each on the originality of the group's work and the positive impact the group has had on the community around them," said Chris Brecht, Director, Project ATX6. "Both of these winners have conceived ventures that focus on improving the human experience. They are using their talents and creativity to benefit our experiences as listeners and consumers."
About the contest
The winners will kick back, relax and recharge in the Birdhouse, which was designed and furnished by the West Elm Austin store team (@west_elm_austin). West Elm Austin's Style + Service experts provided the retailer's complimentary design services to transform the Birdhouse into a tranquil retreat with all of the comforts of home, including mattresses provided by Casper. Following their weekend stay, winners will enjoy two nights in an Austin HomeAway vacation rental. The winning groups have also received VIP wristbands for each of Do512's parties during SXSW, free haircuts and tchotchkes from Birds Barbershop and Verb haircare products, and free Austin Eastciders cider during their stay.
The Birdhouse, a larger-than-life representation of HomeAway's corporate logo, was built in 2009 as part of HomeAway's global headquarters in downtown Austin. The birdhouse logo was originally chosen to represent a "home away from home," based on the idea that travelers should always have access to the space, privacy and comfort of a whole home, even when traveling.
To view images of the Birdhouse and learn more about our winners, please visit http://www.HomeAway.com/Birdhouse. Follow our winners on social media during their stay using #birdhousesleepover.