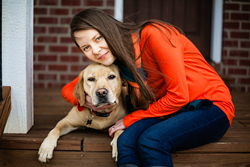 "I am blessed and humbled to be given this opportunity. At GMLCPA we truly care about our clients and I am excited to continue serving them and making their lives easier."
Tucson, Arizona (PRWEB) March 13, 2017
Mrs. Larisa Cooper, CPA has been newly appointed as a partner in the GMLCPA firm, effective January 1st, 2017.
Larisa has provided services to many clients over the past 5 years and has proven to be a great asset to the team. She started at GMLCPA directly after graduating college and has since obtained her CPA certificate and an M.S.A. (Master of Science in Accounting) degree. She has easily proven herself an excellent tax strategist and has actively contributed to saving our customers hundreds of thousands of dollars in taxes.
Over the last few years GMLCPA has changed significantly in that it has become a premier strategic advisor to clients. This focus allows the firm to advise on topics that are much farther reaching than tax compliance. Specifically, the advisory services offered at GMLCPA now go deeper into operations and management decisions. Larisa is a significant part of this change as she has contributed to broadening the firm's reach immensely.
For press inquires, contact Becca De La Paz, info(at)gmlcpa(dot)com or 520-572-1248.
Follow GMLCPA:
Facebook -- https://www.facebook.com/gmlcpa/
Twitter -- https://twitter.com/GabrielleLuoma
YouTube -- https://www.youtube.com/channel/UCEvPE3yZM6GhOwqX7y2LQpg
LinkedIn -- https://www.linkedin.com/company/gabrielle-luoma-cpa-pllc
Google+ -- https://plus.google.com/+Gmlcpapllc