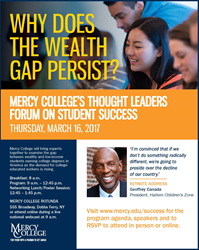 (PRWEB) March 10, 2017
Mercy College's National Thought Leaders Forum on Student Success
Why does the wealth gap persist?
College success should be based on hard work and determination–not family wealth. That's the sentiment at Mercy College and the basis for the College's National Thought Leaders Forum on Student Success.
Mercy College has long been committed to educating low-income, first generation students and the College is once again examining student success as a whole. Who gets to graduate and why?
Mercy College's Thought Leaders' Forum on Student Success
March 16
Mercy College
555 Broadway, Dobbs Ferry, New York
Mercy Hall, Rotunda
8 a.m. Breakfast
Program 9 a.m. – 12:45 p.m.
Networking lunch/Poster Session 12:45 – 1:45 p.m.
RSVP at http://www.mercy.edu/success to attend in person or view online during a live national webcast at 9 a.m.
Mercy College will bring experts together to examine the gap between wealthy and low-income students earning college degrees in America as the demand for college-educated workers is rising. At the Forum this year, speakers include (in order of appearance):

Geoffrey Canada, Harlem Children's Zone
Marybeth Gasman, University of Pennsylvania
Mendell Grinter, Campaign for School Equity
Donna Linderman, City University of New York
Nicole Hurd, College Advising Corps
Kathryn Mannes, Jobs for the Future
José Herrera, Mercy College
Henry Fernandez, Complete College America
Cynthia Rivera Weissblum, Edwin Gould Foundation
Robert Niehaus, The Robert and Kate Niehaus Foundation and GCP Capital Partners LLC
The keynote address will be given by Canada, it is entitled, "We All Must Have a Stake in the Game."
According to experts in the area, there are hundreds of thousands of students across the nation who fall into the category of "at risk for graduation" because of their socioeconomic background. These students desperately want to earn a four-year degree–but they encounter issues that students from more affluent families do not. Mercy College has always stayed true to its mission, committing itself to educating these students and helping them transform their lives through higher education. Among the many programs the College has instituted is the College's PACT Program, which pairs students with a full-time mentor to help guide them through college and overcome obstacles that arise during their time in college.
Mercy College President Tim Hall said: "We need to defeat demography. As a nation we need to ensure that all students who are determined and smart are getting into college, through college and into meaningful careers. College success should have nothing to do with family wealth."