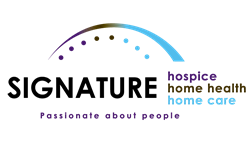 Springville, Utah (PRWEB) March 08, 2017
Signature Hospice of Springville, Utah received the rare distinction of earning a perfect survey after a recent state inspection. The result of the survey indicates substantial compliance with requirements for hospice providers and reinforces the team's dedication to delivering quality care and enhanced patient and family experiences.
State inspectors survey all aspects of hospice care during the unannounced inspection. Surveyors accompany care providers on patient visits to examine infection control, evaluate communication with patients and families, monitor continuity of care, and assess patient and family satisfaction. The survey also closely examines health records, conducts interviews with staff members, and measures the overall quality of the program.
"This is a great honor for everyone working at our Springville agency," says Bob Thomas, PT, President of Signature Hospice, Home Health, Home Care. "It takes a unique individual with a true passion for the quality of other people's life to choose hospice as a career. It brings joy to my heart to know that this particular group is being recognized for the tremendous amount of kindness and compassion they provide to the communities they serve."
About Signature Hospice, Home Health, Home Care
Signature Hospice, Home Health, Home Care is a leading provider of home-based post-acute healthcare services. Signature specializes in providing Nursing, Physical Therapy, Occupational Therapy, Speech Language Pathology, Palliative Care, Primary Care and Hospice Services for patients in their r. Learn more at http://www.4signatureservice.com.