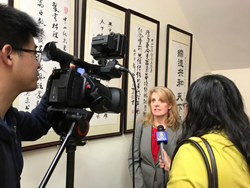 We want everyone to know that they need not fear Immigration in New York City.
(PRWEB) March 10, 2017
On February 25, 2017, hundreds of Chinese immigrants and their allies congregated in Chinatown for an Immigration Fair. The gathering featured speakers and professionals who could shed light on immigration issues that have come to the surface since President Trump took office. Among those attending the event and supporting Chinese immigrants was New York Attorney Neva Hoffmaier of Hoffmaier & Hoffmaier.
It was important to Hoffmaier to stand by her fellow New Yorkers and be on hand to answer questions. "We want to support the Chinese community, especially to those who are afraid in the current administration," Hoffmaier commented.
The fear of deportation brought on by the Trump administration has increased traffic in the Hoffmaier & Hoffmaier office. Clients are worried that immigration will come knocking on their door any day and that they will be deported, pulled from their families and the lives they have built for themselves.
"We want everyone to know that they need not fear Immigration in New York City. Unless there was a prior deportation order, criminal conviction or criminal arrest, they will not be deported under the new government," asserted Hoffmaier.
The Immigration Fair was hosted by Epoch Times, a free Chinese newspaper, and NTD Television, the largest Chinese television station in the U.S. Hoffmaier spoke with television reporters about the fair and the many questions she's been asked by her clients since the new administration took office. The full NTD news story (in Chinese) can be viewed here: http://media5.ntdtv.com/HourlyNews/201702/20170227/20170227_044751-video.mp4.
Neva Hoffmair encourages her clients and anyone with immigration questions to speak to an attorney. If Immigration does knock on the door, they must identify themselves and residents do not have to answer the door. Hoffmaier strongly encourages everyone to have an attorney present when speaking with Immigration. For anyone with specific concerns or additional questions, Hoffmaier & Hoffmaier offers free consultations as well as staff fluent in Chinese and Spanish.
About Hoffmaier & Hoffmaier, P.C.:
Hoffmaier & Hoffmaier is a family-owned law firm based in New York City specializing in accident cases that help the hurting and underserved. Together, their attorneys have over 26 years of accident litigation experience in slips & falls, car accidents, workplace accidents, bicycle accidents, motorcycle accidents, pedestrian accidents, premises liability and wrongful death. In addition to accident cases, the firm also helps clients with immigration, landlord or tenant disputes, wills and divorces. For more information, visit http://www.hoffmaier.com.