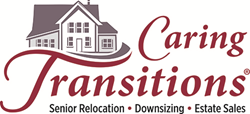 At Caring Transitions, we can create a customized plan designed to help you through any or all stages of the downsizing, relocating and estate clearing process.
Everett, WA (PRWEB) March 09, 2017
Jim Burnett and Chris Seaver are pleased to announce the grand opening of their new business, Caring Transitions of North Puget Sound.
Caring Transitions is America's largest resource for managing senior relocations as well as downsizing and estate liquidations. In addition to organizing, packing, de-cluttering, moving and resettling, Caring Transitions can handle estate sales, liquidations, and preparing homes for market. Caring Transitions of North Puget Sound serves Everett, Marysville, Lynnwood, Edmonds, Lake Stevens, Granite Falls, Mountlake Terrace, Woodway and the surrounding communities.
Whether your situation is planned or unexpected, Caring Transitions' services are perfect for seniors moving in with family or into a safer living situation as well as busy families and people clearing out the home of a loved one who has passed. All of Caring Transitions' services are customizable, so clients only pay for the services they need – whether that means managing the entire move and estate-clearing or just getting someone resettled into their new place.
"I had an opportunity to work for myself again and Caring Transitions was a perfect combination of my desire to help seniors and families and my passion for antiques and estate sales. Chris and I work well together and we're looking forward to providing these much-needed services to the North Puget Sound region," Burnett said.
Burnett, who has a Master's degree in Health Care Administration, previously worked as the executive director of several assisted living facilities and Seaver, a long-time antique collector, has many years of retail experience. The two also previously owned an antiques store together when they lived in San Diego. Burnett said he thinks their experience – combined with the Caring Transitions business system and their special focus on seniors and families – really sets their business apart from the moving and estate sale competition.
"I think my background in assisted living and health care really helped me understand what kind of support and advocacy seniors and families need when they're downsizing or relocating, especially if they're moving into an assisted living situation. The whole process can seem overwhelming, but it doesn't have to be. At Caring Transitions, we can create a customized plan designed to help you through any or all stages of the downsizing, relocating and estate clearing process," Burnett said. "And if you decide to have an estate sale – in-person or online – Chris is extremely good at understanding what your items are worth, how to price them and how to help you get the most from your sale."
Burnett is a Certified Relocation and Transition Specialist, a designation bestowed by an independent organization that evaluates providers of senior relocation services. Caring Transitions of North Puget Sound is bonded and insured and all employees are background-checked. For additional information, contact 425-903-3049, email JBurnett@CaringTransitions.com or visit http://www.CaringTransitionsOfNPS.com.
About Caring Transitions
Caring Transitions, founded in 2006, is the first national franchising concept specializing in senior relocation and transition services. With nearly 200 locations throughout the United States all owned and operated by Certified Relocation and Transition Specialists, Caring Transitions provides clients with supportive moves, auctions, rightsizing and transitions. This includes expert advice plus a well-executed transition plan beginning with the initial sorting of personal belongings through packing, shipping and selling of items to the final clearing and cleaning of the property. For more information, visit http://www.caringtransitions.com or visit us on Facebook.