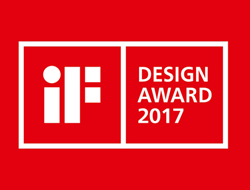 "We are consistently impressed with the design and durability of Coleder's Road Ready and Ace Block products." - Aaron Kipfer, Neoti Director of Technology
Bluffton, IN (PRWEB) March 09, 2017
Neoti is proud to announce that Coleder, one of its LED Display manufacturing partners, has recently been recognized with two iF Design Awards for excellence and innovation in product design. The award-winning products include the narrow pixel pitch Ace Block Ultra HD LED Display and both the indoor and outdoor Road Ready LED Displays.
For over 60 years, the iF Design Award has been considered one of the most coveted design prizes in the world. In 2017, their international jury of independent experts evaluated 5,575 products from 59 different countries before selecting winners for each of their seven categories. Their decision is based on criteria such as overall quality, functionality, materials, build, finish, and more.
Coleder's Ace Block Ultra HD LED Display and Road Ready LED Displays stood out from the competition for a number of reasons, including their original design, exceptional manufacturing quality, convenient installation, and the variety of applications to which they can be applied. In particular, the iF Design Award jury was impressed with their innovative modular capabilities, which make it possible to quickly and easily assemble custom, seamless screens.
"It is Neoti's goal to provide the highest quality and most innovative LED products to our customers, and we are consistently impressed with the design and durability of Coleder's Road Ready and Ace Block products. This award further confirms our choice of manufacturer and product," says Aaron Kipfer, Neoti Director of Technology.
As Coleder's Sales and Service Partner, Neoti is both proud to congratulate Coleder on their recent award and honored to offer an award-winning product to the U.S. LED display market.
About Neoti
Established in 2006 as an award-winning pioneer of innovative digital signage solutions, Neoti has evolved into an industry-leading provider of display technology and a value-added reseller for multiple tier one LED display manufacturers. Additionally, Neoti offers an in-house specialized LED repair and service center. By focusing on the best products available for each application and maintaining a strong dedication to their customers' vision, Neoti has set a new standard for custom LED display solutions.
Headquartered in Bluffton, Indiana, with an office in the New York metropolitan area, Neoti provides LED display solutions to a broad array of markets, including rental and staging, broadcast, higher education, sports, digital signage, control rooms, hospitality, houses of worship, retail, museums, and transportation.
More information can be found at http://www.neoti.com