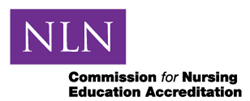 "The NLN CNEA is succeeding in the important work of accrediting programs certain to elevate outstanding patient-centered, culturally sensitive care, in line with the League's mission." NLN President Dr. Anne Bavier
Washington, DC (PRWEB) March 13, 2017
Concordia College Alabama in Selma and Wilson College in Chambersburg, PA became the first institutions to gain accreditation for their nursing programs through the National League for Nursing Commission for Nursing Education Accreditation (NLN CNEA), the NLN CNEA Board of Commissioners has announced. The schools' programs were acted upon by the NLN CNEA commissioners at their February 2017 board meeting.
After completing the pre-accreditation process in spring 2016, each college submitted a self-study report and then welcomed NLN CNEA on-site program evaluators to campus in fall 2016. Wilson's bachelor's and master's of science in nursing degree programs and Concordia Alabama's bachelor of science (RN-BSN) degree program were each granted initial accreditation for a term of six years, through February 2023.
In accrediting these three degree programs, the NLN CNEA has taken an important step in the process for national recognition from the US Department of Education. Once that recognition is granted, the NLN CNEA will be federally sanctioned to accredit nursing programs across the spectrum of higher education.
"By requiring all program evaluators to be schooled in the NLN's four core values – caring, diversity, integrity, and excellence – we have created an accreditation process guaranteed to shift the paradigm in nursing education. To effectively guide organizational behavior, candidates for accreditation must explain how they will apply these core values to program evaluation," noted NLN CNEA executive director, Judith A. Halstead, PhD, RN, FAAN, ANEF.
"These nursing programs represent quality and excellence in nursing education, and we are pleased that these are the first programs we have accredited," said NLN CNEA Board of Commissioners chair Cathleen Shultz, PhD, RN, CNE, FAAN, ANEF, observing that both institutions have long, interesting histories. Concordia is the only Lutheran college that is part of the nation's cohort of historically black colleges and universities, while Wilson, a private liberal arts college that now admits women and men, was one of the first US colleges for women.
Remarked NLN president Anne Bavier, PhD, RN, FAAN: "On behalf of the NLN, I congratulate the NLN CNEA for its significant progress. They are succeeding in the important work of accrediting programs certain to elevate outstanding patient-centered, culturally sensitive care to advance the health of the nation and the global community, in line with the League's mission. "
Describing the benefit of the NLN CNEA accreditation process to the programs at Wilson, the Division of Nursing and Health Sciences chair Carolyn Hart, PhD, RN, CNE, observed, "CNEA accreditation really helps you focus on continually improving and continually making sure that what you're offering to students is current and addresses the needs of employers. It ensures that nurses are prepared to excel in the workplace." Wilson's accreditation covers the college's four pathways to a nursing degree, offered online and campus-based. Bachelor and master's tracks admit pre-licensure students, as well as previously licensed RNs, LPNs, or LVNs.
Dr. Constance Smith Hendricks, chair of the Health Sciences Division and director of the Department of Nursing, came to Concordia two years ago to launch the RN-BSN program. She had high praise for her experience with the NLN CNEA. "I found the professional staff, including program evaluators, extremely thorough and helpful in guiding us through what can be a stressful process. The on-site visits to our campus involved a number of focused activities to facilitate verification and amplification of the self-study report we had submitted. I recommend the NLN CNEA without hesitation to other nursing schools and programs."
Since its inception in September 2014, in response to the demand by League members for an alternative values-driven accreditation service, the NLN CNEA has also achieved these milestones:

For further information about NLN CNEA accreditation or how to apply to serve the NLN CNEA as a site evaluator, please contact Dr. Halstead at jhalstead(at)nln(dot)org, or visit the website.
Dedicated to excellence in nursing, the National League for Nursing is the premier organization for nurse faculty and leaders in nursing education. The NLN offers faculty development, networking opportunities, testing services, nursing research grants, and public policy initiatives to its more than 40,000 individual and more than 1,200 institutional members, comprising nursing education programs across the spectrum of higher education and health care organizations.