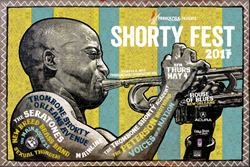 New Orleans, LA (PRWEB) March 10, 2017
The fifth annual Shorty Fest, a benefit concert for the Trombone Shorty Foundation, will fill two stages at the House of Blues New Orleans with an incredible lineup of jazz, blues, funk, rock and soul artists on Thursday, May 4, 2017 – in between the two weekends of the New Orleans Jazz and Heritage Festival. Tickets are on sale March 10 via Ticketmaster and The House of Blues – for ticketing info please visit http://www.tromboneshortyfoundation.org.
Ticket pricing ranges from $80 general admission to $250 VIP tickets, which include an open bar and access to the VIP balcony.
Shorty Fest 2017 presented by Presqu'ile Winery is the largest fundraiser of the year for the Trombone Shorty Foundation, which provides music education, instruction, mentorship and performance to young, underserved musicians, helping to pass on the unique cultural and musical heritage of New Orleans to its youth.
Shorty Fest has built a reputation as a showcase for up-and-coming musicians and honoring the mission of mentorship that is at the heart of the Trombone Shorty Foundation. The event, which sells out every year, has become a Jazz Fest tradition, bolstered even more this year with the Trombone Shorty Academy's partnership with the New Orleans Jazz and Heritage Foundation.
Shorty Fest 2017 will take place May 4 at the House of Blues New Orleans, 225 Decatur St, New Orleans, LA with doors opening at 8:00 p.m. and performances beginning at 9:00 p.m.
"The fifth annual Shorty Fest is the place to be to see the future of our music during Jazz Fest, including the next generation of New Orleans superstars, the Trombone Shorty Academy students," said Troy "Trombone Shorty" Andrews. "With the support of our incredible sponsors, we are developing our city's best and brightest young musicians, who would not otherwise be able to pursue this path. Shorty Fest is the culmination of years of hard work, passion and commitment."
A leading foundation dedicated to preserving New Orleans' musical heritage, this year marks the first that the Trombone Shorty Academy is officially partnered with the New Orleans Jazz & Heritage Foundation, with a new home at the George and Joyce Wein Jazz & Heritage Center. In addition to Presenting Sponsor Presqu'ile Winery, Shorty Fest is supported by Official Automotive Sponsor, Acura; Official Beer Sponsor, Oskar Blues Brewery; Second Stage Sponsor, CAN'd Aid Foundation; and Media Sponsor, Spread Music Now.
Shorty Fest 2017 Lineup:
Trombone Shorty and Orleans Avenue - a hard-edged funk band that employs hip-hop beats, rock dynamics and improvisation in a jazz tradition. They've rocked audiences headlining New Orleans Jazz & Heritage Festival since 2013 in the coveted closing spot, recently toured with the Red Hot Chili Peppers, and performed at venues and festivals all over the globe.
Seratones – This up-and-coming Shreveport group mixes up a combination of Southern musicality, and garage rock ferocity.
New Breed Brass Band - living and breathing the culture of New Orleans, infusing funk, rock, jazz, and hip-hop into a custom-made enhancement of second-line brass band tradition.
The Main Squeeze- From Red Rocks to High Sierra Festival, the band's captivating live performances have earned them a devoted national following.
Sexual Thunder- high-energy psychedelic funk band from New Orleans, that blends contemporary synth and electronic percussion sounds with classic funk instrumentation and six-part vocal harmonies.
MainLine- This 8-piece funk/hip-hop/soul ensemble incorporates traditional New Orleans brass band horns with a funk/jam band feel and modern hip-hop elements.
Voices of a Nation - Big Chief Juan Pardo's music is an electrifying display of a culture that dates back over two hundred years in New Orleans, the Mardi Gras Indian tradition.
The Peterson Brothers– These Austin, Texas brothers feature a uniquely modern blend of blues, soul, and funk. Alex, 17, on bass and vocals, and Glenn Jr., 20, on guitar and lead vocals, have grown up playing together since they were very young.
Trombone Shorty Academy students - The Trombone Shorty Academy provides aspiring underserved high school musicians mentorship and experience in music performance, reading and writing while teaching New Orleans musical traditions like brass-band, traditional Jazz, Blues and gospel, Mardi Gras Indian funk, Hip-Hop, and Shorty's own hybrid sound of "SupaFunkRock." The Academy combines education in the region's rich musical history with immersion in a performance ensemble under the guidance of musicians Erion Williams, Edward Lee, and and Julian Gosin of New Orleans' own The Soul Rebels, and Jenard Andrews of New Breed Brass Band.
Additional special guests to be announced
ABOUT THE TROMBONE SHORTY FOUNDATION
Founded by renowned New Orleans musician Troy "Trombone Shorty" Andrews in 2013, the Trombone Shorty Foundation is Andrews' vision of sharing his passion to inspire the next generation by developing their musical talent and connecting them to the city's unique musical heritage. Frontman of the band Trombone Shorty & Orleans Avenue, Andrews credits the support of his own positive role models in the rich New Orleans music community for helping him make his way into the world of music, where he has grown into an internationally recognized, Grammy Award-nominated artist.
Currently in its fifth year, the Trombone Shorty Academy partners with the New Orleans Jazz and Heritage Foundation to perpetuate the musical heritage of the region, by teaching local high school students homegrown New Orleans music—from brass band and traditional jazz to more modern funk and rhythm & blues styles, all of which play an integral role in the richness and depth of New Orleans' musical legacy. For more information on the Trombone Shorty Foundation, please visit: http://www.tromboneshortyfoundation.org.
Media Contacts:
Kelly Vogt Campbell / Kelsey Cycan
Harmonica
Kelly(at)harmonica(dot)co / Kelsey(at)harmonica(dot)co