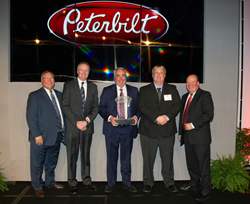 The Larson Group, a Peterbilt dealership company, was recently named North American Parts and Service Dealer of the Year by Peterbilt Motors Company.
Palm Springs, CA (PRWEB) March 10, 2017
Peterbilt Motors Company has named The Larson Group (TLG) as its 2016 North American Parts and Service Dealer of the Year at its annual Dealer Meeting, citing the dealer's "commitment to support and service that spans the entire truck ownership experience."
Also recognized as PACCAR's Best In Class Parts and Service Dealer of the Year in 2016, as well as accepting service excellence awards for two of its dealerships, the recent Peterbilt honor further demonstrates TLG's exceptional dedication to service.
"Every member of our team is committed to creating an unparalleled ownership experience for our customers, and that includes maximizing their uptime and minimizing their costs for the entire life of their truck," said Glenn Larson, President and Dealer Principal of TLG.
The Best in Class Awards were based on a combination of the Peterbilt's Standard of Excellence scores, financial performance, parts and service performance and utilization of PACCAR training and programs.
"The Larson Group fully utilized parts, service and support technologies offered by Peterbilt and PACCAR Parts in 2016," said David Danforth, PACCAR Parts General Manager and PACCAR Vice President. "They achieved outstanding performance in each Standard of Excellence category, maintained an excellent absorption rate, and were the first in the Peterbilt network to open a TRP all makes parts store."
In addition to being classified as one of Peterbilt's top-performing Dealers of the Year, the leading provider of Peterbilt parts and accessories also received three platinum oval awards.
Kyle Quinn, Peterbilt General Manager and PACCAR Senior Vice President, said, "The entire team of The Larson Group takes great pride in their business, the Peterbilt brand and focuses on the needs of the customer. They embrace and invest in the full range of Peterbilt and PACCAR Parts programs, including full parts and service support of PACCAR MX engine family."
Larson said, "We will continue to invest in the skilled technicians, technologies and training that ensure that our customers' expectations are not only met, but exceeded. It is that commitment that has resulted in the honor of being named the Peterbilt Parts and Service Dealer for 2016."
###
About The Larson Group Peterbilt The Larson Group has been providing quality Peterbilt products and exceptional service across the Midwest for more than 25 years. TLG has built teams of qualified, highly-trained professionals to provide customers with the best service for their commercial transportation needs at 18 Peterbilt facilities located across Arkansas, Illinois, Indiana, Kentucky, Missouri, North Carolina, South Carolina and Ohio.
For more information about The Larson Group's Peterbilt parts inventory or to experience its exemplary customer service first-hand, call 417.865.5355, visit TLGtrucks.com or contact Barbie Langston at blangston(at)tlgtrucks(dot)com.