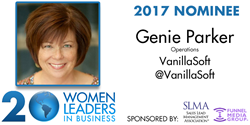 Plano, Texas (PRWEB) March 10, 2017
VanillaSoft, an award-winning provider of lead management software for inside sales and sales by phone activities, is pleased to announce that Genie Parker has been selected as an honoree in the Sales Lead Management Association's (SLMA) 20 Women to Watch in Sales Lead Management for 2017. This is the fourth year in a row that Parker has been nominated for this honor.
"It is quite an honor to be nominated as one of 20 Women to Watch in Sales Lead Management in 2017," said Parker, a sales & marketing veteran with over 30 years of experience. "There are so many influential and respected women whose ranks I join this year. It's a wonderful compliment to be recognized among them"
VanillaSoft CEO David Hood commented, "We are very proud of Genie and her accomplishments. It's not surprising to see her name in this list of accomplished sales & marketing leaders again. Genie is a committed and passionate leader here at VanillaSoft, and she continuously strives to improve sales-by-phone methodologies and lead management solutions for VanillaSoft customers."
A panel of judges reviewed SLMA members' nominations for the 20 Women to Watch in Sales Lead Management honor. Honorees were selected based on their contributions to a combination of activities, including sales lead management, marketing and sales.  Additional qualifications, such as board positions, authorships, and relevant presentations, were considered. 
About VanillaSoft
VanillaSoft is the all-in-one platform for inside sales teams incorporating the best of CRM, lead management, and call center software. VanillaSoft enables thousands of individuals and sales teams to not only manage their leads and contacts but to automate the sales process to allow salespeople more time to sell. VanillaSoft customers drive productivity by deploying best-in-class features such as queue-based lead routing, progressive dialing, logical branch scripting, call recording, full email campaign management and more.
After automating sales tasks with VanillaSoft, typical users realize a productivity increase of 30% to 100% over traditional CRM, creating an easy to justify ROI. VanillaSoft is based in Plano, Texas, where it has served a global client base since 2005.