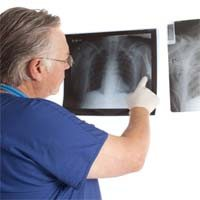 The accumulated evidence points away from EPP as clinically effective...
Raleigh, NC (PRWEB) March 11, 2017
A working group charged with advising surgeons on mesothelioma treatment is recommending that they stop using the lung-removing surgery known as extrapleural pneumonectomy (EPP). Surviving Mesothelioma has just published an article on the findings. Click here to read it now.
Dr. Giuseppe Cardillo and Dr. Tom Treasure head the working group that is part of the European Association for Cardio-Thoracic Surgery. They say there is insufficient proof that the lung-removing surgery can extend mesothelioma survival.
"The accumulated evidence points away from EPP as clinically effective and, if taken in its totality, the published evidence now allows those advising patients to give informed counsel," concludes the Letter to the Editor in a recent issue of the Annals of Surgery.
In their letter, Cardillo and Treasure point out what they see as flaws in many of the studies comparing survival after EPP to that of other types of mesothelioma therapies.
"As confusing as the debate over mesothelioma surgery has been for providers, it has been even moreso for patients," says Alex Strauss, Managing Editor for Surviving Mesothelioma. "This letter suggests that, after many years of data on EPP surgery and mesothelioma, a pattern may finally be emerging that could make the decision easier for some patients."
EPP is the most extensive types of surgery for pleural mesothelioma and involves removal of one lung as well as other diseased and at-risk tissue.
To read more about the findings of the European surgeons' working group, see Radical Mesothelioma Surgery Deemed Not "Clinically Effective", now available on the Surviving Mesothelioma website.
Cardillo, G and Treasure, T, "Extrapleural Pneumonectomy is Not Shown to be Clinically Effective in the Treatment of Malignant Pleural Mesothelioma", March 7, 2017, Annals of Surgery, http://journals.lww.com/annalsofsurgery/Citation/publishahead/Extrapleural_Pneumonectomy_Is_Not_Shown_to_Be.96708.aspx
For more than a decade, Surviving Mesothelioma has brought readers the most important and ground-breaking news on the causes, diagnosis and treatment of mesothelioma. All Surviving Mesothelioma news is gathered and reported directly from the peer-reviewed medical literature. Written for patients and their loved ones, Surviving Mesothelioma news helps families make more informed decisions.