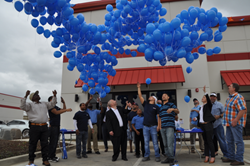 Charlotte, NC (PRWEB) March 11, 2017
Maaco Auto Painting & Collision Repair – a part of the Driven Brands, Inc. family of automotive aftermarket franchise brands based in Charlotte, NC – cut the ribbon on its 500th location in North America as it kicks off its 45th anniversary of serving customers across the continent. The Maaco in Mansfield, Texas, south of the Dallas-Fort Worth area, co-hosted a ribbon-cutting event with the Mansfield Chamber of Commerce for community partners on Thursday, March 9, and will have a grand opening event on Saturday, March 11. All to celebrate the new location being named the 500th store in the Maaco network. It is the 16th location in the Dallas market.
"Congratulations to Robert and Keita Reid for helping us celebrate this accomplishment. Opening our 500th location during our 45th anniversary year is a tremendous milestone for the Maaco brand," said Jason Ryan, president, Maaco. "This enhances our North American footprint through which we can serve customers anywhere with a well-known brand of high-quality painting and collision repair. In addition, we are proud to showcase this opening as an opportunity to support Cook Children's Hospital and Children's Miracle Network through our Driven Brands Charitable Foundation."
Robert Reid was a longtime executive at The Dannon Company, where he served in various manufacturing and production leadership roles. He holds a Bachelor of Applied Science in Mechanical Engineering from Southern University and A&M College at Baton Rouge. In his spare time, he is an avid sports car enthusiast.
"It's been a wonderful journey getting into this business with Maaco," said Reid. "We have a great location in Mansfield and the chamber of commerce came out to support us today. The Maaco name is recognized by everyone, you never have to explain the name. We have had customers since day one. We have a bright future, no doubt about it. All in all it's been a wonderful experience."
Garland Gibbs, ambassador for the Mansfield Chamber of Commerce, joined the ribbon-cutting event on behalf of the community along with Maaco Owners Robert and Keita Reid.
"Mansfield Chamber warmly welcomes Maaco Collision Repair and Auto Painting into our community and are delighted to work with Robert and Keita Reid as they open the doors to their new business," he noted.
 
As part of the celebration, Maaco partnered with the Cook Children's Hospital in Dallas, part of Driven Brands' charitable partner Children's Miracle Network Hospitals. Karol Johnson from Cook Children's Hospital was on hand for a 500-balloon salute, one for each Maaco location, to recognize the hundreds of children helped at Cook Children's Hospital. They were also presented with a $5,000 donation from Maaco. All the money raised for Children's Miracle Network (CMN) stays local and goes directly to providing life-saving medical treatment for children in need.
In addition, the Reids and their crew will be providing free repair estimates during their official grand opening celebration on March 11. There will be activities on site for everyone in the family including a food truck, racing simulator and car show with the DFW GT-R Car Club.
Maaco was founded in 1972 and has serviced more than 20 million cars. As America's #1 auto paint and collision repair provider, Maaco combined with Meineke to form Driven Brands in 2008. Driven Brands acquired Maaco Canada in 2013, and with the opening of Maaco Mansfield, now has 500 independently owned and operated franchises in North America.
About Maaco
Maaco Auto Painting & Collision Repair – a part of the Driven Brands, Inc. family of automotive aftermarket franchise brands based in Charlotte, NC – is America's #1 Bodyshop. Maaco provides automotive paint and cosmetic repair services for nearly 500,000 drivers annually. With over 500 independently owned and operated franchises across the United States and Canada, Maaco has restored the safety and appearance of more than 20 million vehicles over 45 years. Maaco has been named a top automotive franchise numerous times by Entrepreneur Magazine in its Annual Franchise 500 ranking. In addition to other honors, Maaco has been included on Franchise Times' list of Top 200 franchises. For more information about Maaco, visit http://www.Maaco.com. For more information about franchising opportunities, visit http://www.MaacoFranchise.com.
Contact:
Deborah Robinson
312.505.4336
drobinson(at)vmg1(dot)com