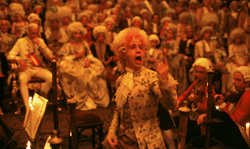 The take away is that this film made Mozart, and his genius, a hot global commodity for both musicians and media. — James Cassidy, KSO Music Director.
Newport, KY (PRWEB) March 14, 2017
The Kentucky Symphony Orchestra continues its 25th Anniversary Season at Greaves Concert Hall with a another regional premiere — Amadeus Live (2nd U.S. performance). Highland Heights, KY will join the international cities of London, Prague, Paris, Lucerne, Toronto, Seoul, Istanbul and Munich, where the film Amadeus with live-orchestral and choral soundtrack has received recent screenings (Eugene, OR offered the first U.S performance).
The 1984 film, directed by Miloš Forman, won 8 Academy Awards including Best Picture. Adapted by Peter Shaffer from his original play Amadeus, the film version made Wolfgang Amadeus Mozart and his music universally recognized and admired, resulting in new recordings, festivals, biographies and children's books about the child prodigy composer.
The film is stunningly set in Vienna (though shot in Prague), where court composer Antonio Salieri (F. Murray Abraham) recounts the entire story to a young priest, shortly after Salieri's failed suicide attempt. Salieri weaves a tale of envy and intrigue as he describes the impetuous child genius portrayed by Tom Hulce in a series of flashbacks. Shaffer, Forman and cast keep the audience riveted to the story twists, but how much history in the film is fact, fiction or simply embellished?
Fiction: Salieri was not a dried-up old bachelor who had vowed his chastity to God. He was a married father of eight.
Fact: Mozart is known through his letters and music for his crass humor and pranks (See K. 231). Therefore, many such scenes are indeed plausible. Today Mozart may have been simpatico with Trey Parker and Matt Stone (South Park).
Fiction: Hit or Miss: Though the film depicts Mozart's operas The Marriage of Figaro and Don Giovanni as being flops, they were immediate and sensational hits of the day.
Fiction: Salieri did not, as the film suggests, assist in writing the Requiem. Mozart's copyist and composer Franz Xaver Süssmayr (a student of Salieri) actually did. Mozart was actually on good terms with Salieri at the time of his death, inviting him to The Magic Flute premiere and writing endearingly of him in his diary. Following Mozart's death, Salieri gave his bereaved younger son free music lessons.
In 1830 Alexander Pushkin published his short play — Mozart and Salieri — about an alleged rivalry between the two Vienna-based composers. The play, in which Salieri murders Mozart, was later set as an opera by composer Nikolai Rimsky-Korsakov. This dramatic premise has continued to grip the artistic imagination ever since. It is from Pushkin's notion that Shaffer created his play and then film.
"The play and film was never intended to be a biography," said KSO Music Director James Cassidy. "It's a wonderful, fun yarn, with Mozart dazzling both the nobility as well as the bourgeois and peasants, while the jealous Salieri plots his demise. The take away is that this film made Mozart and his genius a hot global commodity for both musicians and various media."
The music for the film (see the attached playlist) was chosen by the late Sir Neville Marriner, together with producer Paul Saenz, with Shaffer and Foreman. Marriner recorded the complete selections with the Academy of St. Martin's in the Field. Forman took the finished tapes to Prague and shot the film to the timing of the music.
Experience the multi-Academy Award® winning motion picture, Amadeus on the big screen, while Mozart's most celebrated works are performed live, in-sync by the KSO, members of Voices of the Commonwealth, Collegium Cincinnati's SummerSing Chorus and pianist Sophie Wang at 7:30 p.m., Saturday, April 8, 2017 in Greaves Concert Hall on the campus of NKU, Highland Heights, KY. Reserved seating tickets are $24, $32, $40 and are available online at kyso.org, or by phone (859) 431-6216.
About the KSO:
For nearly 25 years The Kentucky Symphony Orchestra has taken the "phony" out of symphony through live thematic concerts that culturally enrich, educate and entertain the residents of Northern Kentucky and Greater Cincinnati. The KSO performs throughout Northern Kentucky with three series of concerts.