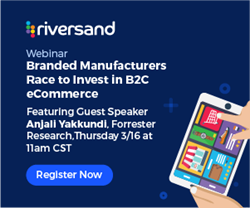 branded manufacturers have been aggressively pursuing the channel of selling directly to customers (DTC)
Houston, TX (PRWEB) March 14, 2017
Riversand Technologies, a Product Information Management Leader and a Master Data Management visionary, presents a webinar featuring Forrester Research on March 16, 2017, at 11:00 am CST (12:00 pm EST, 9:00 am PST).
Today, there's a race around who owns the customer relationship, and branded manufacturers are getting into the game. Many branded manufacturers have been aggressively pursuing the channel of selling directly to customers in addition to traditional partner channels. This shift represents not only a huge business strategy shift for manufacturers but also a significant shift in technology. Manufacturers must consider not just their B2B, but also their B2C eCommerce investments.
In this webinar, on March 16th at 11:00 am Guest Speaker, Anjali Yakkundi, Senior Analyst, Forrester Research will discuss:

Strategic investments as branded manufacturers become B2C
B2C technology investments critical to B2C eCommerce
The role of product data and content in the B2C commerce ecosystem
Register now to attend this free Webinar.
About Riversand
Riversand is a Product Information Management Leader and Master Data Management Visionary. Riversand provides Trust, Relevance and Insights for your Master Data in the era of Data Discovery, Cloud and High Scale. RIversand's MDMCenter is a single, integrated, scalable, and robust multi-domain MDM platform that caters to a variety of use cases across multiple verticals. In addition, Riversand offers specific solutions, such as Vendor Portal, Spare Parts Management, Material Master, GDSN onboarding, Digital Asset Management, Print Publishing, and more. Riversand provides accelerated time-to-market, increased sales, improved order accuracy, reduced costs, and enhanced customer service. Visit Riversand.com for more information, and follow us @RiversandMDM on Twitter.