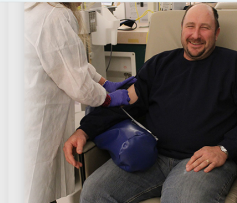 (PRWEB) March 13, 2017
Hemowear, an online dialysis clothing company is proud and honored to be an exhibitor at the upcoming 37th Annual Dialysis Conference in Long Beach, California. This conference is a large stepping stone for this dialysis clothing company, as it will showcase their innovative products to physicians, nurses, other medical professionals, and people who directly work with others who receive dialysis treatments. This conference is one of the biggest events each year for people within the dialysis community. The conference consists of panels, informational sessions, and exhibitors demonstrating how their products and services can help ease a life with dialysis.
Hemowear has been a very successful online clothing company for people with dialysis and other medical ailments which require patients to get treatment in certain areas of the body. Hemowear has been making easily accessible clothing for many years so their customers can stay comfortable, stylish, and warm throughout their treatments. Hemowear's clothing items include a zipper near the upper arm and upper thigh, where a patient's dialysis treatment would take place. This dialysis clothing company has everything ranging from a comfortable t-shirt to warm sweatshirts and sweatpants. For people who need peritoneal dialysis, the company has also designed PD belts, which can be worn comfortably at the waist and can help protect from serious infections.
Hemowear will be among many other exhibitors at the conference but are brining a very unique and helpful product to the table. If you are attending the 37th Annual Dialysis Conference in Long Beach, California, you will be able to view and purchase this unique and beneficial dialysis clothing in the exhibit hall during the hours of 9:30-5 Sunday and Monday and Tuesday till 11 am.
About
Hemowear is an online dialysis clothing company creating comfortable, stylish, and accessible garments for people who need many medical treatments near the upper arm, thigh, and abdomen area. Their mission is to keep their customers feeling comfortable and confident during their dialysis treatments. Shop their wide selection of clothing and learn more at http://www.hemowear.com/