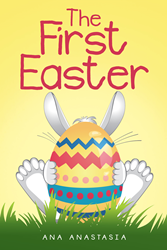 Phoenix, AZ (PRWEB) March 15, 2017
Symbolic traditions are a part of each holiday as they are tied to many cherished memories. For Easter, the egg has long been part of its celebration. Author Ana Anastasia expands on the Easter tradition with different possibilities in the new children's book, "First Easter."
The book provides a possible explanation for how colored and decorated eggs became associated with Easter. Readers will follow along with various farm animals as they prepare to host an Easter celebration for their community.
Anastasia shares how each animal had a role to play, and why a rabbit is responsible for delivering the Easter eggs. Additionally, Anastasia said her book focuses on the loyalty of animals toward humans, even if we don't return the same love or appreciation.
"I want people, especially children, to know that animals care about us," said Anastasia. "Animals are loyal to humans and will be there for us once we show them love and kindness."
"First Easter"
By: Ana Anastasia
ISBN: 978-1-49177-845-6 (sc); 978-1-49177-844-9 (e-book)
Available at: iUniverse and Amazon
About the author
Ana Anastasia attended Cipriani College of Labor and Co-operative Studies. She has a diploma in computer programming and emergency management. Anastasia is pursuing a degree in occupational safety health and the environment. She worked as a police officer for the Trinidad and Tobago Police Service, retiring as a corporal.
# # #
Review Copies & Interview Requests:
LAVIDGE – Phoenix
Courtney Coombes
480-998-2600 x 612
ccoombes(at)lavidge(dot)com
General Inquiries:
LAVIDGE – Phoenix
Maggie Driver
480-998-2600 x 584
mdriver(at)lavidge(dot)com