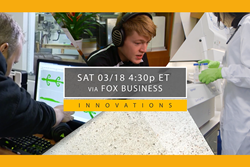 Jupiter, FL (PRWEB) March 13, 2017
Innovations with Ed Begley, Jr. is proud to announce the upcoming airing of the award winning series, scheduled to broadcast Saturday March 18, 2017 at 4:30 pm ET.
With a behind-the-scenes look at Life Length's Telomere Analysis Technology® (TAT®) (a U.S. Federally certified diagnostic test, which is the most accurate and sensitive test for understanding cellular, and hence, organismal aging) Innovations will uncover why Life Length is the only company in the world to measure telomeres at the sub-cellular level, chromosome by chromosome, from both blood and tissue samples, determining the percentage of short telomeres which is the most relevant indicator of telomere dysfunction and aging.
The show will also explore CAPDOTS™, an on-line auditory training system for the treatment of Central Auditory Processing Disorders. Audiences will learn about the training system, which provides evidence-based, deficit-specific intervention using current audiological neuroscience. The show will educate on the therapy system's modules, which can be selected to meet the specific needs of the CAPD individual, and can be applied selectively or in combination as indicated by the CAPD assessment results.
With a passion for developing self-sustaining businesses in impoverished areas, Bait Mavericks provides more people with access to jobs. This segment of will teach about the latest advancements in 3-D precision bait mold technology, and how this – along with the company's dedication to giving back – is reinventing bait manufacturing. From custom molds to injections to fulfillment, the company has the dexterity to deliver any and all parts of bait manufacturing for the client.
In addition, the show will look at the innovation behind Trim-A-Slab technology – a new elastomeric seal, offering a convenient D.I.Y solution that seals and protects concrete expansion joints.
"From science and technology, to education, fabrication and more, the latest breakthroughs in business and beyond are explored," said Seth Michaels, Producer for the Innovations Series. "We look forward to enlightening audiences on the latest advances across these industries."
About Innovations & DMG Productions:
Innovations, hosted by award winning actor Ed Begley, Jr., is an information-based series geared toward educating the public on the latest breakthroughs in all areas of society. Featuring practical solutions and important issues facing consumers and professionals alike, Innovations focuses on cutting-edge advancements in everything from health and wellness to global business, renewable energy, and more.
DMG Productions (responsible for creating the Innovations show) includes personnel specialized in various fields from agriculture to medicine, independent films to regional news and more. Our field producers work closely with experts in the field to develop stories. This powerful force enables us to consistently produce commercial-free, educational programming that both viewers and networks depend on.
For more information visit: http://www.InnovationsTelevision.com or contact Seth Michaels at: (866) 496-4065 or via email at: info(at)innovationstelevision.com.