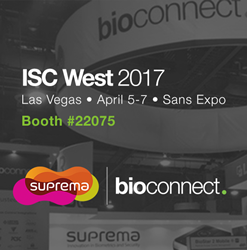 With cybersecurity issues seemingly evermore prevalent and the development of more user friendly security solutions such as mobile, security professionals are consistently seeking out new ways to protect both physical and logical apps.
Toronto, ON (PRWEB) March 15, 2017
With cybersecurity issues seemingly evermore prevalent and the development of more user friendly security solutions such as mobile and contactless biometric, security professionals are consistently seeking out ways to protect both physical and logical applications.  BioConnect and Suprema are pleased to address these issues with a focus on Biometrics, Security and Identity at ISC West 2017 at booth 22075 and invite security professionals to learn more.
New Suprema FaceStation 2, Facial Recognition
Suprema will debut the new FaceStation 2, a facial recognition device with multi-card support. The FaceStation 2 is the next generation of the FaceStation, and as a contactless facial recognition device with an adjustable wall bracket to accommodate different heights, it is very user friendly. It boasts an incredibly fast and accurate matching speed (1:3,000 matches in one second) and captures both static and dynamic templates, giving it the ability to constantly evolve and sustain a more exact understanding of the daily changing expressions of the face. The device also offers multi-factor authentication options with a RF card (HID Seos, iClass, Prox) and PIN. It also can operate in much harsher lighting conditions than other competing facial recognition devices with an operating illuminance of up to 25,000 lux. 
New BioConnect ID CabinetShield, Dual-Factor Cabinet Lock
BioConnect colocation customers expressed the need to provide dual-factor authentication from the front door all the way to the cabinet to address both compliance and their customer security requirements. In the past, solutions to meet these requirements at the server cabinet were limited.
To address this problem, BioConnect created BioConnect ID CabinetShield a dual-factor fingerprint plus card lock to secure server cabinets. With biometric (fingerprint) and card support, the lock is manufactured to fit most of the common cabinets and can be easily integrated with over 25 various access control solutions making installation and enrolment much simpler and sustainable. The BioConnect team has completed multiple successful pilots of the solution in flagship data centers across North America.
New BioConnect ID Mobile, Biometrics for Mobile App Security
With companies going global in footprint and supporting a more mobile workforce than ever, BioConnect's partners are fast-developing solutions where mobile credentials are replacing plastic cards. BioConnect ID is at the core of every biometric service offered by BioConnect and simplifies the deployment of biometrics. BioConnect will debut BioConnect ID in the form of an API/SDK and mobile app to enable enterprises to take advantage of biometrics (face, voice, fingerprint, eyeprint) within their mobile app. BioConnect will be demonstrating partner mobile apps that are secured by BioConnect ID. 
New BioConnect ID Cybershield, End-to-End Physical Security that Meets IT Requirements 
BioConnect and Suprema are very excited to debut BioConnect ID Cybershield, a complete end-to-end physical security solution that meets IT requirements. BioConnect ID Cybershield incorporates Suprema BioStation 2 fingerprint plus card access device integrated with leading access control solutions. It boasts software customizations that meet the requirements of network security from how the device communicates to the panel, to the network, how the data is stored and can even support an enterprise transitioning to newer network protocols such as 802.1x and IPv6. The solution will be demonstrated with Software House CCURE 9000 access control. 
BioConnect ID Enterprise - BioConnect's integration software and Suprema biometric terminals supporting evolving industry standards such as OSDP, iClass, SEOS.
BioConnect is consistently integrating the leading biometric solutions on the market to offer flexibility to grow in the future. BioConnect and Suprema will demonstrate how Suprema devices and BioConnect ID CabinetShield seamlessly integrate with Lenel OnGuard, Brivo OnAir, AMAG Symmetry, Genetec Security Center and Keyscan Aurora access control solutions with BioConnect ID Enterprise. 
Suprema and BioConnect are also consistently updating their biometric offerings to support evolving industry standards such as a communication protocols (such as OSDP) and card types such as HID iClass and SEOS. These updates will be on display at Booth #22075.
BioConnect and Suprema are looking forward to meeting with security professionals at ISC West. Request a meeting on BioConnect's website or stop by booth #22075 to see the top biometric solutions in the market.