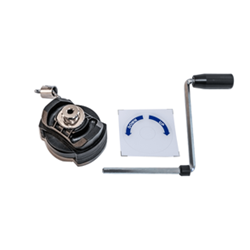 The Fitting no. 16 makes it easier to safeguard flags through its innovative mechanism, and thus preventing them from external tampering.
Atlanta, GA (PRWEB) March 21, 2017
To keep the flags, streamers, and flagpoles from robbery and vandalism, The Flagpole Warehouse, the biggest online provider of flags and flagpoles, declares the beginning of production of another new product. The Fitting no. 16 is a winch system that is intended to change your outside flagpole by steering the halyard into the flagpole, transforming it into an inward system.
The Fitting no. 16 makes it simpler to shield flags through its imaginative system and keeping them from outside altering, while robbery and vandalism are an inescapable reality for today. The product takes into consideration to bolt the systems of the flag safely and keep it secured. By making the outside system internal, the Fitting no. 16 additionally frees from the outside rope that always hits the flagpole. Moreover, with this new system, an outer handle is all that is expected to control the ascending and descending of the flag.
The Fitting no. 16 requires a 22mm hole to be drilled for mounting 3.5 feet away from the base and is available today. The Fitting no. 16 comes with the option of a cylinder lock and key.
For over 25 years, The Flag Company, Inc. has been at the forefront of the flagpole industry, innovating products and technologies to the meet the current demands of the times. While the Flag Company constantly introduces new and innovative products, increasing security options for its product line is equally imperative for The Flag Company, Inc and its customers. The Flag Company, Inc. is committed to providing the most comprehensive solutions in the market with the Fitting no. 16 being the latest evolution in flagpole security.
For more information, visit http://www.flagpolewarehouse.com/Fitting_Number_16 .