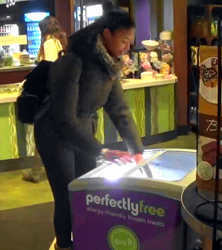 "Many of our students have multiple food allergies and we're always trying to do a better job for them. ... "perfectly free (tm) is free from all of the top eight food allergens," said executive chef Daniel DiBona.
Boston, Massachusetts (PRWEB) March 14, 2017
The generation of children widely associated with the recent rise in food allergies aren't children anymore. Many are now in their college years but unlike previous generations of students who suffered from food allergies, this generation is finding a welcome surprise on campus: a growing selection of nutritious, tasty, allergy-friendly dining options that keep them safe.
"Many of our students have multiple food allergies and we're always trying to do a better job for them," said Daniel DiBona, Sodexo's executive chef of The Bear's Den dining center at Bridgewater State University, a public liberal arts college in Massachusetts with an enrollment of more than 11,000. "We try to develop a one-on-one communication with our kids who have food allergies, to better understand what they can and cannot have. Fortunately for them, we're seeing more food that tastes better and is more affordable."
According to the Centers for Disease Control and Prevention, food allergies increased 18 percent from 1997-2007 among students under 18. Today, more than 15 million Americans suffer from a food allergy, including one in 13 children, per the Food Allergy Research & Education, which calls the problem a "growing epidemic."
Bridgewater, as are a growing number of colleges and universities, is focused on offering students who have food allergies the complete package – allergy-friendly breakfast, lunch and dinner options. In addition, because busy college students enjoy eating on-the-go, providing his customers with an allergy-friendly snack is also important to DiBona. Thus, Bridgewater was the first academic institution to welcome allergy-friendly perfectly free™ frozen treats in a new "grab-and-go" package into its cafeteria.
"perfectly free is free from all of the top eight food allergens," DiBona said, in a reference to the food allergens responsible for 90 percent of food allergies. Because perfectly free snacks are free from dairy, wheat, eggs, fish, shellfish, tree nuts and peanuts, they are safe to eat by a majority of food allergy sufferers.
Other northeastern colleges and universities are also expanding their allergy-friendly food offerings. The growing list of schools authorized to carry perfectly free frozen bites include Becker College, Boston College, Boston University, Brandeis University, Brown University, Castleton College, Clark University, Emerson College, Fairfield University, Framingham State University, Hampshire College, Providence College, Salve Regina, Springfield College, Suffolk University, State University of NY – Oneonta, State University of NY – New Paltz, Simmons College, Trinity College, University of Southern Maine at Gorham, University of Southern Maine at Portland, University of Massachusetts at Dartmouth, University of Rochester, Wesleyan University, Western Connecticut State University, Wheelock College, and Worchester Polytechnic Institute.
"Whether someone is on their way to school or work, dashing off to a meeting, a class or running errands, eating 'on-the-go' has become common place," said Kevin Murphy, CEO of Incredible Foods, which developed, manufactures and markets perfectly free frozen bites. "At the same time, there's greater consumer awareness of health and wellness. Consumers have a greater desire for healthier snacks and they're looking for options that don't have artificial ingredients and are lower in calories than many traditional snacks."
With four tasty, allergy-friendly frozen bites to a pack, perfectly free grab-and-go packs are ideal for colleges and universities, hospitals and convenient stores. perfectly free frozen bites are available in cherry, blueberry, rich cocoa and salted caramel -- all with a creamy vanilla core and only 25 – 35 calories in each bite.
The perfectly free brand is showcasing its products this week at the National Association of College & University Food Services regional conference in Groton, Conn.
About perfectly free™ allergy-friendly frozen treats
The perfectly free™ brand is committed to creating delicious "Big 8 Allergy-Friendly™" foods for everyone who desire a fuller, happier, healthier, free-from lifestyle. perfectly free™ contain only natural, premium ingredients that are non-GMO and free from the top eight food allergens: dairy, wheat, peanuts, tree nuts, eggs, soy, fish and shellfish. All products are prepared in a setting that is free from all major food allergens. For more information, please visit http://www.perfectlyfree.com. "Like" us on Facebook and follow us on Twitter.