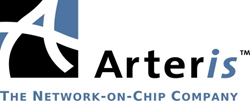 CAMPBELL, Calif. (PRWEB) March 14, 2017
Arteris Inc., the innovative supplier of silicon-proven commercial system-on-chip (SoC) interconnect IP, today announced that the chip design division of ZTE has licensed the highly-configurable Arteris® Ncore™ cache coherent interconnect IP as well as the Arteris FlexNoC® interconnect IP for use in its advanced systems-on-chip (SoC).
ZTE is one of the largest mobile and networking device manufacturers in China. It designs complete hardware-software systems and often designs its own semiconductor devices.
"We chose Arteris Ncore interconnect IP and Arteris FlexNoC IP after an extensive evaluation where we ascertained technology to address the optimal mixing of ARM- and PCIe-based traffic in complex embedded systems," said Mr. Yu Li, VP at ZTE. "Ncore IP can provide advantages not only to meet our area, power and functional requirements while guaranteeing deadlock-free performance, but also to improve the system efficiency and shorten the development cycle. We are pleased to partner with Arteris."
"We are excited that ZTE has chosen Arteris Ncore cache coherent interconnect IP and Arteris FlexNoC for their premier SoCs," said K. Charles Janac, President and CEO of Arteris. "The Ncore cache coherent interconnect was designed specifically for heterogeneous systems and mixed traffic ordering models, and we are delighted that the ZTE development team will benefit from these innovations."
About Arteris
Arteris, Inc. provides system-on-chip (SoC) interconnect IP and tools to accelerate SoC semiconductor assembly for a wide range of applications. Rapid semiconductor designer adoption by customers such as Samsung, Huawei / HiSilicon, Mobileye, Altera (Intel), and Texas Instruments has resulted in Arteris being the only semiconductor IP company to be ranked in the Inc. 500 and Deloitte Technology Fast 500 lists in 2012 and 2013. Customer results obtained by using the Arteris product line include lower power, higher performance, more efficient design reuse and faster SoC development, leading to lower development and production costs. More information can be found at http://www.arteris.com.
Arteris, FlexNoC. Ncore, and the Arteris logo are trademarks of Arteris. All other product or service names are the property of their respective owners.
###