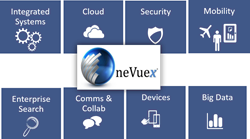 OneVuex is the first and only solution to unify the code of independent software systems, platforms and cloud infrastructure services into one solution making it easy for Enterprises to migrate, integrate and share information in the cloud.
Columbus, Ohio (PRWEB) March 16, 2017
According to Gartner, the world's leading information technology research and advisory company, the demand for cloud computing will grow 18% to $246.8 Billion in revenue in 2017. Gartner Director of Research, Sid Nag stated that growth is driven, in part, by public cloud infrastructure services which include basic computing, storage and network services offered by Microsoft, Amazon or Google, for example. It's also fueled by growth in cloud application services (SaaS). As Mr. Nag stated "Organizations are pursuing strategies because of the multidimensional value of cloud services, including values such as agility, scalability, cost benefits, innovation and business growth."
Enterprises once only thought of Cloud Computing, as basically, cloud storage, but according to Forrester Research Analyst, Dave Bartoletti, they "…are now looking at cloud as a viable place to run core business applications." But running applications in the cloud isn't always that easy. Migrating applications to the cloud means rewriting them to take advantage of the cloud's elasticity. This can be costly and may require migration services. And, once in the cloud, applications still run independently, so information and data integration is still a challenge – not allowing enterprises to take full advantage of Big Data.
OneVuex, a new, intelligent cloud computing technology developed by Bass International Software, LLC, a Microsoft Partner, transforms cloud computing, allowing enterprises to migrate information and data to the cloud, making it more accessible to users in a cost effective, secure environment. OneVuex also:

Enables Enterprises to migrate their systems to the cloud – with full functionality
Integrates the code of applications (i.e. Microsoft Office, Adobe Acrobat, the internet, and most web based applications), platforms (i.e. SQL Server, Oracle, PeopleSoft, etc.) and cloud infrastructure services (i.e. Microsoft Azure Platform), so information is easily integrated regardless of the data source
Easily migrates systems and data to the cloud without rewriting applications or the use of additional migration services, saving time, expense and avoiding coding errors
Provides multiple computing technologies in one solution including Enterprise Search, Communication and Collaboration, EFSS, Mobility, Unified Endpoint Management, Business Intelligence, Translation, Storage (2 TB/user), Security and more.
With OneVuex, Enterprises can now easily migrate ALL information and systems to the cloud with full functionality. Migration can easily occur in stages, since OneVuex can integrate on premise, cloud and hybrid environments. In addition, legacy data on premise can be available from any location, in a mobile environment. And, OneVuex can be used on almost any device – PC, tablet, and cell phone – on any OS – Windows, iOS and Android.
According to Darrel Bass, President of Bass International Software "OneVuex is the first solution to unify the code of these independent software systems, so the user can access and make full use of all their information regardless of how old it is or where it's located. Because of OneVuex's adaptive intelligence and code integration, it provides an Enterprise Search capability like no other allowing users to find information no matter where it is in the system without remembering exact filenames. Users can also collaborate simultaneously on documents, share information with no file size limitations, eliminating the need for unsecure EFSS systems. Files and even folders can be easily dragged and dropped in the system and information from platforms like SQL Server can now be integrated with information in applications like Microsoft Office at a touch of a button – no need to write queries. These are just examples of the power OneVuex delivers, making it easier for Enterprises to integrate, manage and share information."
Mr. Bass also shared another important feature about security "OneVuex was built on the Microsoft Platform – one of the most secure environments in the world. By integrating Microsoft's Advanced Threats Analytics Architecture and Windows 10 Advanced Threats Protection, information is secure whether on a PC or mobile device. Additionally, OneVuex has its own added security known as the Multiple Database Engine System (MDES). In today's current computing environment, all users log into a single core – exposing the entire organization to data breaches if even one single user is hacked. OneVuex's MDES provides each user their own system providing the ability to connect to other users on demand, but if one user is compromised, the rest of the organization is secure."
Businesses and Government agencies are taking note as well as IT giants like Microsoft, Gartner and state tech concerns like TechOhio. Gartner sent Bass International Software a special invitation to the Gartner Symposium/ITxpo in Orlando last October, introducing them to Gartner analysts and clients. TechOhio, part of the Ohio Services Development Agency that showcases how the Ohio Third Frontier is helping grow the state's technology economy, interviewed Mr. Bass and will feature OneVuex in their on-line publication.
To learn more about Bass International Software, help support the OneVuex market launch and access limited introductory offers, visit their campaign on Indiegogo and Kickstarter and their website at http://www.onevuex.com.