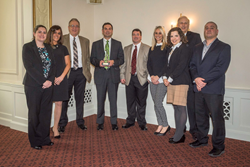 Sharon, PA (PRWEB) March 15, 2017
Synergy Comp Insurance Company was recently named a winner of the prestigious Pittsburgh Business Ethics Award, an honor bestowed on companies who show a commitment to ethical business practices and creating safe work environments for their employees.
"Our entire business is based on workplace safety and minimizing losses for business owners and their employees. That commitment starts with our own employees and business practices. We're honored to be recognized for doing what's right as a business and as a member of the community. We couldn't have done it on our own, though. The added support of our loyal insurance agency partners has been instrumental in bringing our safety practices to businesses all over the country," states Lew Kachulis, President of Synergy Comp.
Finalists for the Pittsburgh Business Ethics Award must meet strict requirements showing a commitment to ethics in all business dealings. The awards committee looks at many aspects of a business's ethical practices including the company's ability to demonstrate their honesty, integrity, and compliance with the law in all business dealings; clearly communicated high ethical standards to employees and customers; and a corporate commitment to provide a work environment that is safe and free from harassment and other inappropriate discriminatory behavior.
Synergy Comp is an award-winning workers' compensation provider. The company has received multiple state and national honors including being named the 2016 Best Place to Work in Western Pennsylvania, the Inc. Magazine's Fastest 5000 Growing Companies in America and Fastest Growing Companies in Pittsburgh.
###
Synergy Comp is a fast-growing company focused on helping businesses and employees stay safe on the job while minimizing losses from injuries and accidents. When employees feel safer, they're more productive and engaged. Synergy Comp works directly with companies to strategize solutions and mitigate potential hazards, accidents, and problems a business or employee may face in the work environment.