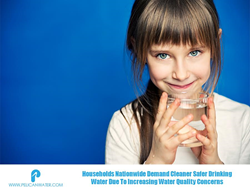 DeLand, Florida (PRWEB) March 15, 2017
A respected leader in the home water filtration industry, Pelican Water Systems is pleased to announce its large stock of reverse osmosis water filtration systems ahead of new and increasing demand.
The Flint, Michigan, municipal government recently decided to begin offering in-home water filters and filtration cartridges to residents at no cost. The program will extend for at least three years while the city works to replace outdated lead pipes that have led to increased water contamination over the past several years.
Michigan isn't alone in the need to issue water filters as a result of severely contaminated water supplies, either. In February the EPA warned nearly 30,000 residents in East Chicago that they too may be consuming lead-laced water. As a result, close to 50 homes have already been given free bottled water and water filters.
Additionally, testing of school drinking water supplies in Pittsburgh revealed that aging pipes in school buildings could be exposing children, a demographic specifically vulnerable to lead poisoning, to increased levels of lead in drinking water.
Given these and other ongoing problems with water supplies nationwide, Pelican Water Systems is seeing a significant increase in demand from customers seeking products that can address problems like lead, chromium 6, and fluoride found in school and residential water supplies.
That's why Pelican Water Systems is proud to be increasing their supply of highly efficient, compact reverse osmosis water filtration systems direct to consumers. These systems not only purify potentially problematic water, they also save money and waste over time as they eliminate the need for continued purchasing of bottled water. This is especially important in the homes of those most at risk for health issues as the result of problematic water including homes with young children, the elderly, or those who have severe health concerns including cancer.
How do they work?

Reverse Osmosis removes dissolved solids, chemicals, and contaminants.
Water is forced through a semi-permeable membrane with the use of pressure.
Impurities are filtered out, leaving clean-tasting, delicious water.
Sediment and contaminants previously filtered out are disposed down the drain.
Purified, clean water supply is released through a faucet for consumption.
Essential minerals are added back into the water.
During the purification process, reverse osmosis filters remove 93%–99% of many worrisome contaminants including arsenic, fluoride, lead, chromium 6, barium, copper, and radium. In addition, a mineral filtration pack allows calcium and magnesium to be added to the home water supply.
The Pelican Water Reverse Osmosis home system is proud to be "Green by Design." In addition to a reduction in manufacturing, packing materials, and shipping costs, Pelican Water Systems offers up to 50% reduction of home water waste when compared to other home RO systems currently on the market. Pelican's home reverse osmosis systems are compact, easily fitting under virtually any residential kitchen sink on the market. In addition to the small footprint, Pelican Water System's Reverse Osmosis systems are proud to offer simple installation and, above all else, simplified maintenance over the lifetime of the product.
Made in the U.S. and available now, the Pelican Water Systems Reverse Osmosis water filtration system comes in three faucet color choices. Available in chrome, bronze, and brushed nickel, all home RO systems offered by Pelican Water are WQA-certified to meet all NSF/ANSI standards.
To learn more, please visit: https://www.pelicanwater.com/pelican-reverse-osmosis.php
About Pelican Water Systems
PelicanWater.com is the official, factory-direct retail website for Pelican Water Systems, providing professional knowledge and leading technologies in whole house water filtration, countertop water filtration systems, UV bacteria disinfection systems, and salt-free water softening and conditioning systems. Pelican Water products use cutting-edge technology to enable customers to go green by eliminating wasteful and harmful salt brine discharge that is polluting our valuable fresh water resources. Pelican Water is also proud to offer under-counter reverse osmosis systems that are small enough for practical use in RVs and marine vessels. Pelican Water continues to be the global market leader in salt-free water softening systems. For more information about Pelican Water Systems, visit PelicanWater.com.