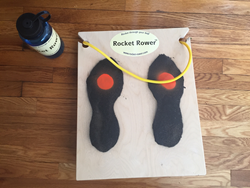 "Rocket through your day with quick, energizing intervals of motion and exercise using the Rocket Rower."
Cambridge, MA (PRWEB) March 16, 2017
People sit too much - on average, 8 to 10 hours a day. People sit in cars, at desks, around conference tables, and in front of computers and tvs. Sitting that much is deeply unhealthy. It presents a global health issue. The unhealthy effects last even for people who do significant exercise before or after a long day of sitting.
The Rocket Rower offers an antidote to sitting. It gives fun, easy and quick (30, 60, 90 second) intervals of stand-up exercise throughout the day, between conference calls, during a commercial, before a meeting and after sending an email.  Studies show short periods of exercise offer many benefits.  Rowing is one of the best full-body exercises. 
The Rocket Rower is the world's first stand-up rowing machine. The Rocket Rower gets its name because the body motion goes straight up, like a rocket. It is lightweight (about 7 lbs) and about the size of a briefcase (16" x 20" x 4"). It goes anywhere: in a cubicle, under a desk, beside a bed or couch, on a deck, inside and outside.  Crafted of wood, it provides a refreshing and eco-friendly relief from today's plastic, glass, metal and concrete.
All those factors combined to be the inspiration to invent the Rocket Rower, the unique stand-up rowing machine that offers lots of short, energizing mental and physical breaks from sitting.
Tim Higginson designed the Rocket Rower.  He rowed competitively for 6 years.  In his free time, he sculpts wood.