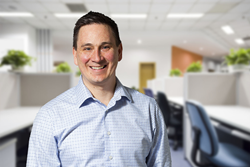 His depth and experience for adoption of agile processes in large organizations are a perfect fit for Avoka's mission of digital transformation in large banks
Denver, Colorado (PRWEB) March 15, 2017
Avoka, the global leader in digital customer acquisition for financial services, announced that Steve Demchuk has joined as Chief Product Officer, taking responsibility for driving product direction in support of Avoka's rapid international expansion.
Steve joins Avoka from CA Technologies where he was the VP of Product Management for CA Agile Central (formerly Rally Software). Steve was the Chief Product Owner at Rally Software, which had a successful IPO in 2013 before being acquired by CA in 2016. During his tenure at Rally/CA, Steve led product management through scaled agile transformations and worked with global customers to help realize the benefits of agile and modern product management.
Avoka's Chief Executive, Phil Copeland, was delighted that Steve had joined Avoka. "Steve brings a tremendous talent to the Avoka global management team," Mr. Copeland said. "His depth and experience in both enterprise applications and adoption of agile processes in large organizations are a perfect fit for Avoka's mission of digital transformation in large banks."
Steve has more than 17 years of application development, sales and product management experience working with enterprise software systems. Prior to Rally, Steve was a developer, program manager and systems architect at IBM and then at Ricoh, after his division was acquired by Ricoh from IBM.
Steve said, "Avoka is leading the way in increasing business agility and creating customer-centric digital experiences, which coincides with my passion to build products that people love to use. I'm honored to join Avoka in the midst of an exciting time of digital transformation in the financial services industry."
Steve earned a BS in Business Administration, with an emphasis in Information Systems and Finance, from the University of Colorado, Boulder. He is based in the Avoka headquarters in Broomfield, Colorado, and will support product efforts at Avoka's major facilities in Sydney and London as well.
The announcement follows recent Avoka executive expansion announcements of Matt Lewis as CFO, and Cliff van Tonder as EVP of Partner Sales in Europe.
About Avoka
Avoka accelerates customer-centric digital transformation in financial services and government. Avoka Transact creates seamless omni-channel customer experiences that increase business agility and accelerate customer acquisition. Avoka was founded in 2002 and has digitized over 100 million transactions for 150+ global clients. Avoka is based in Denver, CO, London, England and Sydney, Australia.