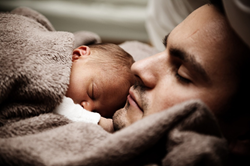 No matter what causes a person to become sleep-deprived, when we lose sleep hours for any reason it can create a very real negative impact on how a person feels and performs throughout the day...
Santa Rosa, CA (PRWEB) March 15, 2017
March is the time of year when most of us are confronted with the loss of an hour of sleep as our clocks adjust to Daylight Savings Time, making this the perfect time to think about what it means to have healthy sleep patterns all year long. "It's easy to see what kind of an impact even mild sleep disorders can have on a person's life by observing how losing just one hour of sleep can cause us to be discombobulated for days," says Dr. James Marco Steele NCMA pulmonologist and director of North Coast Sleep Centers.
"No matter what causes a person to become sleep-deprived, when we lose sleep hours for any reason it can create a very real negative impact on how a person feels and performs throughout the day," he explains. "Sleep deprivation can become an issue very quickly. Inadequate rest is something that can compromise a person's ability to be alert and it can impact common functions including reaction time while driving, and that can lead to accidents."
Sleep researchers leave little doubt that sleep deprivation can be hazardous to health. Studies have revealed that sleep-deprived people who participate in trials using a driving simulator or who are asked to perform simple hand-eye coordination tests execute their tasks as badly as or worse than do their intoxicated peers. According to the National Highway Traffic Safety Administration, driver fatigue is responsible for as many as 100,000 car accidents and at least 1,500 deaths annually.
When Too Little Sleep is Not Enough
The body's internal clock or circadian rhythm can become confused due to factors such as daylight savings, for health reasons, working circumstances, by traveling or even by becoming a new parent; all of which can lead to interrupted sleep patterns, and loss of adequate sleep.
According sleep experts, if a person feels drowsy during the day, even while attending to otherwise dull activities, it's a clear sign of inadequate sleep. And if a person routinely falls asleep in under five minutes of lying down, it's probably in indication of severe sleep deprivation, and may be symptomatic of a sleep disorder.
The National Institute of Health says that more than 40 million Americans deal with chronic, long-term sleep disorders each year, while 20 million report experiencing only occasional sleeping problems. Sleep disorders and the resulting sleep deprivation have very real consequences on quality of life. Good sleep is necessary for optimal health and is known to affect hormone levels, mood and weight. More than 70 sleep disorders have been identified by doctors, most of which can be easily treated once diagnosed. The most common sleep disorders include;

Insomnia
Sleep Apnea
Restless Legs Syndrome
Narcolepsy
When to Get Help
Most experts agree that adults should sleep at least seven hours per night on a regular basis in order to maintain optimal health. While most adults can get by with eight hours of sleep some may need a longer sleep duration exceeding nine hours per night. People who require more sleep hours include young adults and people suffering from a chronic illness. For someone with persistent insomnia, going to a sleep center can help identify the problem and offer solutions for common sleep issues including;
Chronic Snoring
Insomnia
Narcolepsy
Pediatric sleep disorders (night terrors, sleep walking, etc.)
Restless leg syndrome
Sleep apnea
"The best advice is to talk to your doctor if you are concerned about your sleep patterns, or if you feel constantly fatigued," says Dr. Steele. "For an ongoing sleep problem, seeking out the help of an accredited sleep center can make a world of difference in a person's quality of life."
About Dr. Steele and NCMA's Sleep Centers
NCMA Pulmonologist James Marco Steele, MD provides diagnostics, treatment and management of a full spectrum of pulmonary diseases. He is Board Certified in Sleep Medicine, Pulmonary Medicine, Internal Medicine as well as Critical Care by the American Board of Internal Medicine (ABIM). For more information, visit the NCMA website or call (707) 525-3786.