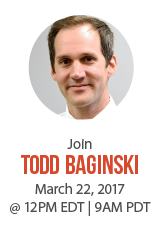 (PRWEB) March 15, 2017
SharePoint developers, designers, and administrators are invited to join Microsoft MVP Todd Baginski for a live webinar on March 22, 2017, hosted by training solutions leader VisualSP. SharePoint Framework is a hot topic these days, having gone live on February 23rd. Framework allows developers to extend their existing SharePoint tools and solutions, and take advantage of the open-source opportunities.
VisualSP has been a leader in educating power users and other SharePoint advocates on the entire SharePoint ecosystem. Founder and CEO Asif Rehmani – a Microsoft MVP himself – understands the need for informative sessions like the upcoming class. "We recognize that users have a lot of questions about Framework, because it is so new," said Rehmani. So we've invited Todd [@toddbaginski] to provide a presentation on how to make best use of Framework, and how to get trained on it."
The live event will be held 12:00 – 1:15 pm EST, and will include a Q & A period. Mr. Baginski will provide a tour of the official Microsoft SharePoint Framework training materials that backend SharePoint managers can use to ramp up their SharePoint teams. He will go over training materials, including slide decks, hand-on labs, demos, and code samples. Attendees will be provided with an understanding of how they can quickly begin developing custom web parts with the SharePoint Framework. Throughout the webinar, Baginski will also share key takeaways that he and his team learned as they ramped up on SPFx themselves.
The Sharepoint development framework opens up the opportunity for non-Microsoft developers and open-source developers to start making solutions for SharePoint with the tools/programming languages they already know. Interested parties are encouraged to reserve their online seat early, as this event is expected to fill quickly.
To register, visit the VisualSP registration page. To learn more about VisualSP's line of Just-in-Time learning products, visit http://www.visualsp.com.
*****
VisualSP® has been a leader in e-learning/performance support integration with SharePoint since 2004. The company introduced its on-demand, inline Help System for SharePoint to assist end users in developing mastery over common SharePoint tasks. In 2016, VisualSP expanded its technology solutions to online Microsoft products. The company is led by Microsoft MVP and MCT Asif Rehmani. To learn more, visit http://www.visualsp.com.