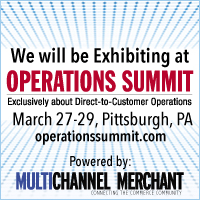 "We developed our e-commerce order management software by working closely with many growing online retailers," said Bob Fischer, CEO of ADSI.
Schaumburg, IL (PRWEB) March 17, 2017
ADSI announced today the release of its new order fulfillment and multi-carrier shipping software for e-commerce companies. The new software expands ADSI's existing product line with new modules for order management, cartonization and branding, and enhanced shipping functionality that is integrated with most online marketplace platforms. The company will be exhibiting its new software at the upcoming Operations Summit in Pittsburgh, March 27-29, 2017 at booth 515. ADSI's new software includes:
Order Management
ADSI's new e-commerce solution offers much needed order processing capabilities that are not typically found in today's multi-carrier shipping systems. "We developed our e-commerce order management software by working closely with many growing online retailers and identifying the visibility gaps and excess manual 'touches' that slow down their fulfillment process," said Bob Fischer, CEO of ADSI.
The new software provides an order management dashboard that lets the fulfillment staff view and manage orders, group and wave them for picking and packing, and automatically process them for shipping, all within one system. "We've already integrated our core shipping system to many different order management systems," said Fischer, "but we created our new order tools for companies who want added flexibility to drill into and work with orders within their shipping system."
Cartonization Module
ADSI's new e-commerce software also offers an optional module for order cartonization that ensures orders are packed in the smallest possible box so they can be shipped for the lowest possible cost. "With carriers' rising dimensional freight rates, many companies are looking for a programmatic way to eliminate the dead space in packaging that drives up shipping costs," said Fischer. "Our solution analyzes the attributes of the items being shipped and calculates the best box size for the order. It's a significant money saver."
Certified for Amazon Prime and Other Marketplaces
ADSI's new e-commerce software can also be configured to automatically process Amazon Prime orders and connect to many leading e-commerce platforms such as eBay, Overstock.com, Shopify, Magento, ChannelAdvisor, Ecometry and others. "We've eliminated the extra manual steps that many companies are going through to process e-commerce marketplace orders, such as Amazon Prime orders," said Fischer. "Our software processes shipments in seconds. It compares carriers, calculates accurate shipping costs, produces the labels and documents, captures the tracking information and uploads the details to the e-commerce platform as buyer's place orders – all without manual intervention."
Expanded Shipping Features
ADSI's new e-commerce software also takes advantage of the extensive carrier library the company has established with its core shipping product, Ship-IT. "We continue to add U.S., Canada and other international carriers on a regular basis," said Fischer. "Also, many of our e-commerce customers have requested more international postal carrier options to handle deliveries in other markets such as the UK, Australia and Canada. Our software supports the USPS, Royal Mail, Canada Post, the Australian Post and others."
Branded Emails, Labels and Documents
The new software also includes a branding tool that lets customers create attractively branded emails, labels and packing lists with their own logos and messaging. "It's exciting to see how online retailers are turning the shipping process into a continuation of the shopping experience for their customers," said Fischer. "We have some very creative examples of labels and emails with offers they use to achieve that and we're happy to show anyone looking for ideas."
All of these capabilities have been integrated in a way that enables online retailers to process orders much faster, control shipping costs and ramp up fulfillment without increasing labor.
###
About ADSI
ADSI is a recognized leader in the multi-carrier shipping software industry. The company released its first multicarrier shipping software system in 1997 and has continued to expand its product line with many optional modules for receiving, scan-based order packing, shipment consolidation, dimensioning, LTL and international shipping, delivery tracking, desktop shipping for offices, and more. ADSI is also a top national partner for many leading carriers such as the USPS, UPS and DHL, and received the FedEx Top Compatible Solutions Provider award for 2017. A longtime Premier Zebra Partner, the company sells, installs and services a complete line of Zebra mobile computers, scanners and printers.
For more information, visit http://www.adsionline.com, call Paula Heikell at 952.913.0188 or send her an email at pheikell(at)adsionline(dot)com