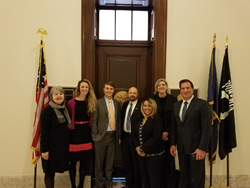 "In meeting with members of Congress we cannot stress enough the value historic property redevelopment brings to a community," says Steven Michael, Principal of Hudson Holdings, a national historic property development company.
Delray Beach, Fl (PRWEB) March 17, 2017
"We have two goals when meeting with legislators," says Steven Michael, a founding partner of Hudson Holdings, a Delray Beach, Florida-based historic property development company, "the first is to reinforce the impact historic property redevelopment has on cities where historic structures exist, and the second is to ensure the continuance of the Historic Tax Credit, an essential financial incentive offered by the federal government that fosters development of historic properties."
The types of properties covered by the Historic Tax Credit range from single family homes, schools, play houses, theaters, hotels, office buildings, retail properties, and even former department stores, among others. "These wide variety of property types and their subsequent renovation helps to instill new life and invigorate the community," says Michael, "it provides a new sense of pride and spirit, attracts fresh blood to a city, increases the resident and work base, and instigates an entrepreneurial renaissance that spreads throughout the community, plus increases revenues to the city."
Hudson Holdings Projects: Nearly 4 Million Square Feet of Space, Exceeding $1 Billion
Hudson Holdings is familiar with the energy, success and synergy that accompanies historic property re-development. Michael, a former member of the Chicago Board of Trade, the Chicago Mercantile Exchanges and the Mid-American Exchange, where he sat on a number of member committees, began his real estate career in 1986. Today, Hudson's current historic property development slate consists of 8 projects across the country, comprising more than 3.8 million square feet of space- from hotels, offices, retail, residential, office space, and includes mixed use adaptive hi-rise structures in downtown environments. The combined value of Hudson Holdings projects exceeds $1 billion.
"With this much money at stake, the tax credits become a lynch-pin component of the financial structure of these deals," says Michael, "and the cities where our projects are located understand, appreciate and encourage our development enterprise and greatly support our efforts."
Two Major Historic Adaptive Re-Use Projects in Louisville, Kentucky
One such supporter of Steven Michael is Craig A. Potts, the Executive Director of the Kentucky Heritage Council and a State Historic Preservation Officer. Michael has two major historic property development projects underway in Louisville, Potts has intimate familiarity with both.
The Republic Building, built in 1912, with more than 56,000 square feet of space is in the city's Downtown Central Business District. The 11-story property is an "adaptive reuse" project that will be converted to a hotel at a cost of approximately $25 million. The neighboring Starks Building, also bought by Hudson Holdings, contains more than 400,000 square feet of mixed-used space. The 14-story building built in two phases, 1917 and 1923, has an estimated renovation cost of $120 million.
Steven Michael Testifies at the Kentucky Statehouse to Top State Officials
Michael has been working contemporaneously for the past two years on these signature high-profile historic preservation properties in Louisville. The work set the stage for Michael to testify in August 2016 at Kentucky's House of Representatives where Michael illuminated the importance of the Historic Tax Credit before members of the "Interim Committee on Appropriations and Revenue," that included the State's Budget Director, John Chilton and Janice Tomes, Deputy Budget Director, for consideration as part of state's "Budget Review and Update for End of Fiscal Year 2015/2016."
Steven Michael: Meeting with Members of the United States Senate and U.S. Congress
Michael is working with Potts, along with 3 other members of the "Kentucky Delegation," participating in the "Preservation Action" lobbying efforts taking place March 14 – 16, on Capitol Hill. Michael is scheduled to meet with the Legislative Assistant to Senator Mitch McConnell, and with the following members of Congress and/or their aids - Rep. Andy Barr, Rep. Thomas Massie, Rep. John Yarmuth, Rep. Brett Guthrie, Rep. Hal Rogers, Rep. James Comer.
"It's difficult to argue with or ignore the facts regarding the incredible value and importance of historic property development and the Historic Tax Credits that incentivize this type of development," says Michael. Since the founding of the Historic Preservation Fund in 1976, the credit has helped the rehabilitation of more than 40,000 historic buildings, created more than 2.3 million jobs, and generated more than $28 billion in federal tax revenue from historic rehabilitation projects.
About Hudson Holdings
Hudson Holdings is a mixed-use developer based in Delray Beach, Florida. Our primary focus is the acquisition, development and adaptive reuse of retail, residential, hotel and office properties. Our current slate of projects across the country comprises nearly 4 million square feet of space valued in excess more than $1.2 billion. We use various methods to increase asset value including adaptive use, ground up construction, repositioning and rehabilitation. Our developmental strategy also utilizes tax credits such as Historic, Brownfield, New Market, and TIFs. The majority of Hudson Holding's property portfolio is historic, commercial buildings in strong, downtown markets. Hudson Holdings invests in residential and commercial properties that offer value-add opportunities and generous cash flows; seeking properties in a range of market sectors. Our current projects include ground-up construction, renovation, and adaptive use of residential, retail, office and hospitality assets.
Hudson Holdings Website: http://www.HudsonHoldings.com
Media Contact: Jeff Mustard | http://www.TheBambooAgency.com | 954-801-8263 | jeff(at)thebambooagency.com