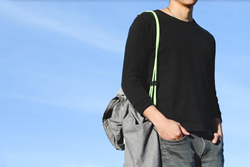 (PRWEB) March 15, 2017
Make life easier and lighter with Sprigs®' patent pending JakRak™, the ​perfect solution for coat carrying on the go. ​Made for any adventurer, this clever device is great for hikers, city commuters, event goers, travelers and even errand runners. The struggle is real when it comes to traveling with a jacket. Unless it's worn on the plane, that perfect parka usually takes up a good chunk of space as a carry-on item. Stylishly designed and strikingly executed, the JakRak™ doesn't cut corners when it comes to your comfort and security.
How does the JakRak™ work? Using a set of three secure, custom-made clips, the JakRak™ attaches to the inside of a coat to the neckline and under the arms. Simply remove coat, drop it down off the shoulders and the JakRak™ holds on shoulders comfortably and securely. Mix it up – wear it over both shoulders, one shoulder or cross body. With silicone coating over the teeth of the clip, this sturdy product can hold up to 12 lbs - their sliders even make it easy to adjust for all shapes and sizes.
Functional features of the JakRak™:

Holds heavy and light coats without damaging fabric interior
Attaches to inside coat for out-of-sight wear
Carries all kinds of coats (light jackets, rain coats, blazers) up to 7 lbs ​(the average winter coat weighs only 3 pounds)​
One Size Fits All - The JakRak adjusts to fit all shapes and sizes
It's easy – wear the JakRak™ over both shoulders like a backpack, over one shoulder, or cross body. Join Sprigs® on ​March 15, 2017 as they launch a new Kickstarter campaign to bring their innovative JakRak™ coat carrier to life.
The Kickstarter campaign (https://www.kickstarter.com/projects/jakrak/jakrak-carry-your-coat-hands-free) will run from ​3/15/2017 through 4/13/2017, with ​a starting goal of raising $10,000 towards production costs. Backers will receive rewards varying based on the level of commitment to the campaign.
Sarah Brodersen
Senior Public Relations Account Executive
ChicExecs Brand Development
820 Los Vallecitos Blvd. Ste A-C
San Marcos, CA, 92069
T: 760.429.6702
C: 310.210.0841
http://www.chicexecs.com
sarah(at)chicexecs(dot)com