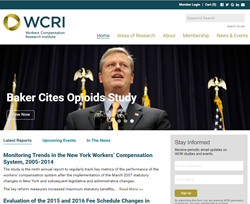 Our new website will make it easier for people to find and access our latest research and upcoming events.
Cambridge, MA (PRWEB) March 17, 2017
In an effort to help policymakers and other stakeholders find the latest research on some of the most significant issues impacting state workers' compensation systems, the Workers Compensation Research Institute (WCRI) launched a redesign today of its website along with a new logo. The site can be viewed at http://www.wcrinet.org.
"One of my goals at WCRI is to improve how we communicate our research and what we offer, especially to policymakers and others system stakeholders," said John Ruser, president and CEO of WCRI. "An example of this is our new website, which will make it easier for people to find and access our latest research and upcoming events."
The website utilizes the latest design elements and features available today, including the following:

Overall cleaner design and navigation system
Robust search capabilities allowing users to search for research and other information using various filters (i.e., date, topic, author, state, etc.)
Member login system which allows WCRI members to download research studies quickly and easily right off the website
Efficient shopping cart for members and non-members to purchase studies and register for upcoming events
Ability to view the site on your phone, tablet, or desktop computer
New WCRI blog
The Cambridge-based WCRI is recognized as a leader in providing high-quality, objective information about public policy issues involving workers' compensation systems.
ABOUT WCRI:
The Workers Compensation Research Institute (WCRI) is an independent, not-for-profit research organization based in Cambridge, MA. Organized in late 1983, the Institute does not take positions on the issues it researches; rather, it provides information obtained through studies and data collection efforts, which conform to recognized scientific methods. Objectivity is further ensured through rigorous, unbiased peer review procedures. WCRI's diverse membership includes employers; insurers; governmental entities; managed care companies; health care providers; insurance regulators; state labor organizations; and state administrative agencies in the U.S., Canada, Australia and New Zealand.