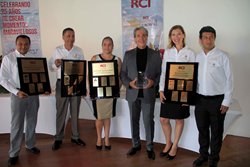 Cancun, Quintana Roo (PRWEB) March 16, 2017
Sunset World Resorts & Vacation Experiences, the Quintana Roo State-based hotel chain received the Gold Crown award from Resort Condominiums International (RCI), the most important vacation ownership exchange company worldwide. Thus, Sunset World Resorts & Vacation Experiences reiterates its leadership in the vacation club industry in the Mexican Caribbean. In addition, its Sunset Royal Beach Resort becomes the only resort in Cancún and the Riviera Maya to receive such award for 25 years in a row, since it opened its doors. The awards were bestowed on four of the resorts of the hotel chain during a ceremony that took place in Sunset Marina Resort & Yacht Club, leaded by Orlando Arroyo Marroquín, CEO of Sunset World.
The Gold Crown award is awarded by RCI to its affiliated developments based on positive feedback from members and guests. Alejandra Espinoza, RCI Regional Director of Business Development, pointed out that Hacienda Tres Ríos Resort, Spa & Nature Park, Sunset Royal Beach Resort, Sunset Marina Resort & Yacht Club and Sunset Fishermen Beach Resort are receiving the award this year as a result of the excellent reviews provided by guests and visitors to the properties in Cancún and the Riviera Maya. "Today we have a special celebration because it is a pleasure to count on such important partners as Sunset World Resorts & Vacation Experiences", she said and remembered that usually it is hard to keep up with this level of business commitment for so many years and such is the achievement of Sunset World.
During his intervention, Felipe Baquedano, RCI Business Development Senior Manager, mentioned that when their members visit the hotels and have an exceptional experience, they return home and fill out a satisfaction survey based on five criteria. Then he explained that the aspects included in these criteria are check in and check out processes, employees' hospitality, service and professionalism, facility maintenance and, last but not least, unit cleanliness. "These criteria are easily said and they might even be reachable; however, it is remarkable when a resort is consistent for so many years", he added. He also said that only 28% of the resorts obtain this award among 4,400 developments affiliated worldwide.
Orlando Arroyo Marroquín, CEO of Sunset World & Vacation Experiences, declared that the award was really for his coworkers who make this quality level possible with their daily hard work. "For Sunset World receiving this awards for four of our developments is a matter of pride; we are talking of four of our developments that are among the best, at the top", he stated.
To the bestowing ceremony also attended Annie Arroyo, Sunset World Director of Brand and Communication; Erika García, CEO of Yucatán Holidays; Anna Kiseleva, Director of Fulfillment; Antonio Camacho, RCI Commercial Manager; Alberto Benrey, Sunset Royal Sales Room Director; Patricio Muldowney, Hacienda Tres Ríos Sales Room Director; Mónica Roberts, Sunset World Corporate Director of Operations; Jorge Hernández, Hacienda Tres Ríos General Manager; Santiago Briseño, Sunset Royal and Sunset Marina General Manager; Ulices Contreras, Ocean Spa and Laguna Suites General Manager; and Jimena Somorrostro, Sunset World Corporate Manager of Human Resources.