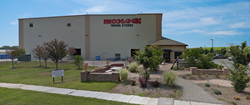 Lindenhurst, NY (PRWEB) March 29, 2017
Nicolock Paving Stones and Retaining Walls, a leader in hardscapes and outdoor living, recently announced the acquisition of a new production facility in Sparta NJ (formally Grinnell Concrete Paving Stones, INC). This new facility will enhance distribution logistics and expand manufacturing capacity in the NJ market as well as to surrounding areas.
The Sparta location expands on Nicolock's nine manufacturing plants located in Connecticut, Maryland and Long Island, NY along with six Distribution Centers in Delaware, Massachusetts, New Jersey, Pennsylvania & Virginia.
"The expansion is a result of our continued growth, due to the hard work and dedication of our internal teams and dealer network. The new facility enables us to grow our already significant presence in New Jersey, Eastern Pennsylvania, and Upstate New York – and to be closer to our customers and key supply partners to improve efficiency and delivery schedules for Nicolock's customers throughout the region." said Roberto Nicolia, CEO.
Nicolock's new facility features:

2 buildings totaling 50,800 square feet of innovative technology and automated systems
Future physical plant growth/expansion opportunities
Potential career opportunities in the Sparta NJ area
In the coming weeks, Nicolock will be fully assessing initial product offerings, timelines, and logistical planning regarding the new facility.
The address for new location is: 482 Houses Corner Rd, Sparta Township, NJ 07871
About Nicolock Paving Stones and Retaining Walls
A division of Nicolia Industries, Nicolock Paving Stones and Retaining Walls is backed by nearly 50 years of experience in the production and supply of quality concrete products. Headquartered in Lindenhurst, NY, with additional manufacturing locations in North Haven, CT and Frederick, MD, Nicolock services the Northeast and Mid-Atlantic regions of the United States.