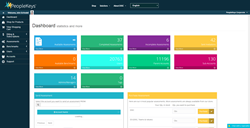 By putting users first, this cutting-edge personality assessment company illustrates its commitment to exceeding customer expectations.
Boardman, OH (PRWEB) March 16, 2017
PeopleKeys, the international personality and behavior experts, just announced new improvements to their user platform, PK3. As part of a continued dedication to improving customer experience, these changes will reflect PeopleKeys' new design and functionality upgrades.
By putting users first, PeopleKeys allows users to have more options to control their user experience.These new updates will be available on March 20th. The redesign of the PK3 dashboard is part of their recent initiative to update all of their products and services to reflect a more contemporary aesthetic and improve user experience.
Known for their highly customizable personality assessment and Behavioral Analysis products, PeopleKeys has extended this dedication to user-guided experiences by upgrading its user platform. This upgraded platform will incorporate even more Administrator-controlled functions. These functions will be thoroughly introduced and explained in instructional videos and downloadable documents, making them even easier to use.
PeopleKeys PK3 Administrators and Account Holders will be able to:
1- Enjoy a new dashboard layout with everything you need to know, all in one place
2- Send Assessments
3- Transfer Assessments
4- Take advantage of the new 'Recent Activity' window showing you pending tasks, membership requests, upgrades and reports all in one place
5- Invite someone to become an Admin directly
These new features and upgrades will improve the user's experience and allow them to take control of the organization of their account. It puts new account features firmly in the hands of the Administrator without having to consult with PeopleKeys' customer service, and a second round of updates and upgrades is already in the works.
How-to videos will soon be released showing Account Administrators how to utilize these exciting new features.
With these new changes to their PK3 Platform, PeopleKeys illustrates their continued dedication to going beyond their customer's expectations.
Want to hear more? Have any questions? Contact PeopleKeys at sales(at)peoplekeys(dot)com or customerservice(at)peoplekeys(dot)com. 330-599-5580 for more information
More about PeopleKeys:
For almost four decades, PeopleKeys has been the thought leader in cutting edge Behavioral Analysis and personality assessment resources. Throughout their expansion both domestically and internationally, PeopleKeys has sought to improve people's understanding of human behavior. Their knowledge of applied behavioral analysis has helped people to reduce stress, improve their relationships, increase workplace productivity, raise morale, and enhance interpersonal communication skills. With their DISC theory based reports, tools, resources, webinars and assessments, PeopleKeys seeks to help everyone unlock their people potential. They have products designed specifically for individuals, ministries, students, businesses, teams, coaches and more; and with over 33 languages available, they are uniquely suited to help everyone improve the human part of their lives.