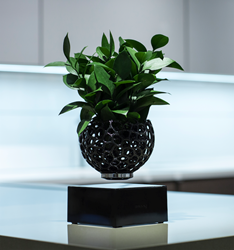 Our mission evolved from serving a singular need (lifting one's spirits), to creating a universal levitation device that could change the way we experience everyday activities and household products
(PRWEB) March 16, 2017
The Levitating Design Lab is pleased to announce the launch of their Levitating X Kickstarter Campaign, running from March 15, 2017 to April 18, 2017.
The campaign is focused on bringing the home décor industry into the 21st century with a unique array of fine dining, décor, and display pieces that use cutting edge levitation technology.
The new line was inspired by the successful Kickstarter launch of their LevitatingCUP in July of 2016.
"Our mission evolved from serving a singular need (lifting one's spirits), to creating a universal levitation device that could change the way we experience everyday activities and household products," explains Joel Paglione, chief levitation officer at the Levitating Design Lab.
The Levitating X Collection includes:

Levitating Plant—a modern textured pot that helps proved 360 degrees of nourishing sunlight
Levitating Pillow—a soft white resting place for displaying one's timepieces and jewelry
Levitating Plate—the first platter to carry itself, showcasing one's culinary creations from every angle
Levitating Décor—contemporary, zero gravity works of art
"Our goal is to continue to develop new designs and products each year that will work interchangeably with our initial base," said Paglione. "Eventually, we hope to see our Levitating X Collection for sale on store shelves everywhere."
Backers of the campaign will receive the Levitating X product of their choice, which will come with their choice of either a wired or wireless base.
They will also have the option to purchase other pieces at discount prices.
The Levitating Design Lab predicts a short delivery time, with backers receiving their rewards within 60 days of the campaign's end.
About
The Levitating Design Lab is run by a team of innovative designers and engineers focused on creating state of the art levitating designs for the home, office, and business. They have spent years designing, engineering, and developing their electromagnetic suspension technology and transforming it into the first portable, affordable, and elegant device on the market.
For interviews or additional information, please visit https://www.kickstarter.com/projects/levitatingx/levitating-x-levitate-everything or contact brooke(at)veteranpr(dot)com.