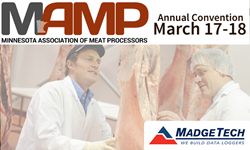 Warner, New Hampshire (PRWEB) March 16, 2017
Established back in 1940, the Minnesota Association of Meat Processors is comprised of companies in that region, many of whom call Minnesota home and have a vested interest in the meat industry. The growing network of industry professionals provides an educational outlet designed to develop and maintain the state's historic reputation as one of the nation's top meat suppliers.
The 77th Annual MAMP Convention will host a number of educational seminars to demonstrate the latest trends and practices beneficial for meat processing facilities of any size. To address common monitoring challenges faced by meat processors, MadgeTech's HACCP Certified Managers, Kelly Wright and Emily Bourke, will be on hand demonstrating the best solutions for the job.
Continuously monitoring the temperature of a product during cooking, cooling and storage is easy with MadgeTech's RFOT wireless data logger. A top-seller in the meat industry, the RFOT is equipped with a built in piercing probe to measure and record the internal temperature of the product during smoking and cooking processes up to 212 °F (100 °C), as well as coolers and freezers down to -4 °F (-20 °C). To accommodate a wider variety of meat product types and sizes, the RFOT is now available in four different probe sizes ranging from 1.75 inches to 7.0 inches in length.
Used in conjunction with MadgeTech Cloud Services, the RFOT allows users to access real-time data transmitting from one facility or a network of facilities around the world, from any internet enabled device. To verify that critical control limits are not exceeded, users can customize alarms and notifications that can be sent via email or text message to any number of recipients.
For high temperature cooking processes, MadgeTech offers the HiTemp140 series of data loggers. These food-grade stainless steel devices can endure temperatures up to 284 °F (140 °C) and are completely submersible to handle both wet and dry processing applications. The HiTemp140 series is ideal for users looking to create a custom validation kit for oven mapping and validation studies.
These products and more will be available at the MadgeTech booth being co-hosted by Gohmann Supply, an authorized MadgeTech reseller. Swing by to learn more about MadgeTech's industry-leading data loggers, customizable solutions and user-friendly software.
For more information about MadgeTech data loggers, please call Chris Gohmann at (320) 250-6969 or send an email to chris(at)gohmannsupply(dot)com.