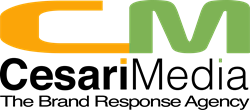 Seattle, Washington (PRWEB) March 17, 2017
Rick Cesari, CEO of Cesari Media, a DRTV and digital advertising agency that specializes in building brand through sales via integrated campaigns, has been invited to be the keynote speaker for the Prosper Show in Las Vegas March 22-23.
The 2017 Prosper Show brings together top-performing Amazon sellers in addition to many other retail and online vendors to share their expertise in helping businesses become more efficient and profitable. The Show co-locates with the Affordable Shopping Destination (ASD) and SourceDirect trade shows. ASD Market Week brings the world's widest variety of merchandisers together in one efficient consumer-goods trade show. The Prosper Show is a well-established trade event that attracts tens of thousands of loyal attendees looking to discover new suppliers, new product categories, and new ways to profit.
Rick Cesari, the founder and CEO of Cesari Media, a Seattle-based Brand Response Television (BRTV) agency, has a twenty year plus history in creating iconic household brands. Cesari's clients have included GoPro, OxiClean, Sonicare, George Foreman Grill, and Juiceman. Rick Cesari is the author of "Buy Now: Creative Marketing that gets Customers to Respond to you and your Product," and is just completing his new book, "Transactional Branding." Cesari is launching Cesari Ignite, a new series of seminars that will share Cesari's long-term successes with his audiences by showcasing his online courses for developing brands, entitled "Grow your Brand", "Grow your Business", and "Brand Imagined".
About Cesari Media
Founded in 1994, privately-held Cesari Media specializes in brand response television advertising with companion digital and mobile campaigns. Having been the agency of record for brands like GoPro, reaching a billion in sales in just seven years, Cesari Media has shown repeated success in taking a brand from start to stardom; maximizing big brand through direct sales in tandem with traditional agencies; as well as acting as the agency of record for their brand response advertising. Cesari Media has helped produce multi-million dollar successes for its clients including George Foreman Grill, OxiClean, and Sonicare. With a winning campaign management model, proven-campaign results, and state-of-the-art analytics, Cesari Media continues to meet the needs of the times capitalizing on its long history of success.