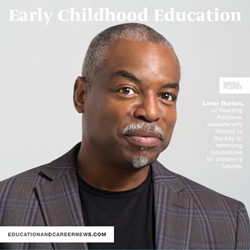 Research shows that 75% of brain growth and 85% of intellect, personality and social skills develop before age five.
New York, NY (PRWEB) March 16, 2017
In the midst of Reading Awareness Month, Mediaplanet today announces the launch of this March's edition of "Early Childhood Education." This campaign will connect families, educators and policy makers alike in this effort to raise awareness on the importance of early childhood; and the elements that go into developing an early learner's social, cognitive, emotional and physical development.
Research shows that 75 percent of brain growth and 85 percent of intellect, personality and social skills develop before age five. Despite five and under being the time to create a foundation of learning, too few children are receiving the quality learning experiences that are essential to their growth.
The print component of "Early Childhood Education" is distributed within today's edition of USA Today in Atlanta, Boston, Los Angeles, New York and Washington DC/Baltimore markets, with a circulation of approximately 250,000 copies and an estimated readership of 750,000; as well as nine industry conferences through November 2017. The digital component is distributed nationally, through a vast social media strategy, and across a network of top news sites and partner outlets. To explore the digital version of the campaign, click here.
Long-time education inspiration LeVar Burton is featured on the cover of the print publication. Through an exclusive interview on the interior, LeVar reveals when his love of learning was first spurred: "She set the example that reading is as necessary for the human species as is breathing." LeVar is infamously known for Reading Rainbow, and in recent time is excited for the launch of Skybrary app that connects children with an unlimited, interactive reading experience. LeVar has many hopes for the future of early childhood education and believes that "literacy is the single most important factor when looking at how we might mitigate all the gaps that face our children."
This campaign was made possible with the support of the LeVar Burton, Amy Mascott, Deborah Stewart, Reading Rainbow, Walden University, Music Together, National Geographic Kids Books, Los Angeles Universal Preschool, Little Passports, National Head Start Association, Global Partnership for Education, National Association of Early Childhood Teacher Educators, Parents as Teachers and National Parent Teachers Association.
About Mediaplanet 
Mediaplanet is the leading independent publisher of content marketing campaigns covering a variety of topics and industries such as Health, Education, Lifestyle, Business and Technology and Corporate Social Responsibility. We turn consumer interest into action by providing readers with motivational editorial, pairing it with relevant advertisers and distributing it within top newspapers and online platforms around the world. Please visit http://www.mediaplanet.com for more on who we are and what we do.
Press Contact:
Alexandra Flecha-Hirsch
alex.flechahirsch(at)mediaplanet(dot)com
+1 (646) 979-2835