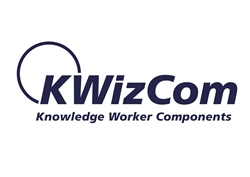 Repeating Rows enables SharePoint business users to quickly create forms with multiple related items, which are very common in core logistics use-cases
Toronto, ON (PRWEB) March 17, 2017
KWizCom, a leading developer of SharePoint Forms & Mobile Solution, as well as multiple other powerful web parts, add-ons and apps for Office 365 (SharePoint Online), designed to expand Microsoft SharePoint, this time is presenting its Repeating Rows Field Type for SharePoint on-premises and Office 365. The utilization of this turn-key add-on enables simple creation of multi-row forms with just out-of-the-box SharePoint list forms.
Repeating Rows Field Type allows non-technical business users to easily and quickly create multi-row forms, such as expense report or order form. The users will be relieved to find out that this field type eliminates the need for a complex InfoPath or an expensive SharePoint Enterprise server implementation. Additionally, there is no need for any complicated technical tools that require power-user skills and business users can quickly and easily create multi-row forms. It's as simple as adding a column to a list!
"We believe that creating dynamic forms in SharePoint should be as easy as creating a WORD document, for example, without the need for advanced power-user skills," says Nimrod Geva, the Product Group Manager of KWizCom. "Repeating Rows enables SharePoint business users to quickly create forms with multiple related items, which are very common in core logistics use-cases".
SharePoint users who are interested to find out what the add-on is like, KWizCom offers a no-cost evaluation version of Repeating Forms Field Type.
Repeating Rows add-on is part of KWizCom Forms Pro+ & Ent. Editions. For clients who require more advanced forms capabilities, the company invites them to explore KWizCom Forms add-on.
Follow KWizCom on Twitter: @kwizcom
Become a fan of KWizCom on Facebook: www(dot)facebook(dot)com/KWizCom
Join KWizCom on LinkedIn: www(dot)linkedin(dot)com/company/kwizcom
Contact a KWizCom Account Specialist at +1-905-370-0333/+1-855-KWIZCOM or info(at)kwizcom(dot)com
About KWizCom Corporation
Since 2005, KWizCom has provided innovative solutions and services to make SharePoint even better for over 7,000 companies worldwide. KWizCom's solutions and services expand Microsoft SharePoint out-of-the-box capabilities, streamline workflow, maximize efficiency and enhance over-all productivity for hundreds of thousands of users. KWizCom, a Gold Certified Microsoft Partner, is headquartered in Toronto, Canada. Please visit www(dot)kwizcom(dot)com to find out more about KWizCom's clients, people, partners and solutions.