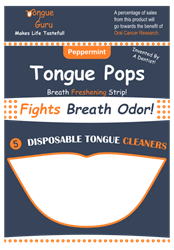 Perry was inspired to invent the new Tongue Pop by questions about the easiest tongue cleaning methods from patients.
Nipomo, Calif. (PRWEB) May 09, 2017
Nipomo dentists Dr. Perry Patel, DDS, has announced the release of the Tongue Pop, a new style of tongue scraper he invented under the brand of Tongue Guru to clean the tongue and promote oral health. The popular dentist Nipomo and the Central Coast relies on for oral health, began using the new devices in his practice in March 2017, and is now distributing them commercially.
Perry was inspired to invent the new Tongue Pop by questions about the easiest tongue cleaning methods from patients in his Pismo Beach and Nipomo dental office. The response from patients has been very positive. I'm convinced," said the dentist "Nipomo, the Central Coast, and people everywhere are more willing to clean their tongues when it is easy to do."
The Tongue Pop's unique design not only removes the plaque and debris from the tongue, it also disinfects and freshens. The device's cleaning head forms a scraper that channels plaque and debris away from the tongue. A freshening strip on the cleaning head adds a finishing touch of freshness. Tongue Pops come in peppermint and cinnamon flavors with new flavors being added. A good rinse under running water after uses keeps the Tongue Pop clean and once the freshening strip has worn away, just dispose of the cleaner.
"Everyone's daily oral health routine should include cleaning the tongue," said Patel. "Bacteria builds up on the surface of teeth, gums, cheeks, and the tongue soon after brushing. Tongue cleaning is as important as regular brushing and flossing."
The tongue not only helps us speak, whistle, taste and chew food, it is important for overall health. The tongue can be an early indicator of potential health problems such as vitamin deficiencies, AIDS or oral cancer and a clean tongue certainly contributes to overall oral health.
Just as bacteria builds up on and between teeth, creating plaque, bacteria also builds up on the tongue. The surface of your tongue is covered in papillae, tiny bumps with grooves that collect bacteria as well as dead skin cells and food particles. The bacteria and other debris trapped on the tongue can cause bad breath, or halitosis, and a white discoloring on the tongue. In addition, the bacteria on the tongue can redeposit onto teeth and gums, even after brushing. Re-deposited bacteria and plaque can contribute to tooth decay and gum disease.
The Tongue Pops are available from Patel's dentist office and are now being distributed to other dentist offices, health clinics, salons and other retail outlets. Tongue Pops can also be purchased from the Tongue Guru website. Patel donates 5-percent of sales to oral cancer research.
Perry Patel, DDS
901 N. Oak Park Blvd #103
Pismo Beach, CA 93449
(805) 489-4761
Press release by San Luis Obispo online marketing company Access Publishing, 806 9th Street, #2D, Paso Robles, CA 93446. (805) 226-9890.