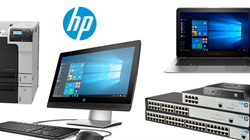 We work hard to provide clients with only the best products designed for years of excellent performance.
Paso Robles, CA (PRWEB) May 04, 2017
Pacific Computer Supply (PCS), with offices in Paso Robles and Mountain View, California, just celebrated more than 40 years of success. Expanding to Paso Robles computers and networks, PCS continues to offer an unparalleled selection of computer products from every leading manufacturer. Providing computer and information technology solutions nationwide since 1976, PCS began supporting Paso Robles computers and Central Coast business technology needs in 2012.
"We work hard to provide clients with only the best products designed for years of excellent performance," said owner and Central Coast Sales Manager John Sanchez.
Pacific Computer Supply specializes in integrating hardware and software solutions for businesses of any size, including networking, hardware and software solutions and Paso Robles computer needs. Working with clients throughout the US and the Central Coast, PCS helps clients identify the best technology products and financial solutions.
The company provides solutions for networks, data protection, security, backup, recovery and replication; data storage, servers, computers and peripherals, unified communications, disaster recovery, business continuity and more. The PCS online CNET store offers an inventory of more than 500,000 items that include systems, memory, network appliances, servers, peripherals, parts, warranty service and every major software publisher, including Adobe, Citrix, Microsoft, Unitrends, Veeam, Veritas and Vmware.
Customers need not be intimidated by the number of products in the catalog. The PCS sales and service representatives work with each customer to help find the right products, volume discounts and licensing upgrades. Neither should clients be deterred by PCS client heavy-weights like Google, the US Department of Energy, the Veteran's Administration Health Care System, Northrop Grumman, Stanford University, and the State of California. Over the years, PCS has worked with over 10,000 customers of all sizes and industries. Businesses served include agricultural, non-profit, property management, manufacturing, construction, legal and accounting companies.
John Sanchez and his father founded PCS in 1976, at the beginning of the personal computer age. Originally the team manufactured daisy wheel and line printers in their garage, selling to federal credit unions across the US. Today, John is proud to carry on the tradition of offering excellent products, service and support that established the company as an industry leader over the last four decades.
Pacific Computer Supply
1111 Riverside Ave Ste 300d
Paso Robles, CA 93446
Phone: (805) 835-4707
Press release by online marketing experts at Access Publishing, 806 9th Street, #2D, Paso Robles, CA 93446. (805) 226-9890.