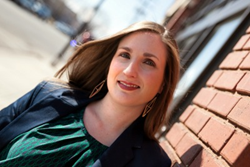 In recognition of her formal strategic planning expertise and contributions to the community, Diana Day, CBO of People Centric, was recently named in Springfield Business Journal's 2017 40 Under 40.
Springfield, Mo. (PRWEB) March 17, 2017
The Springfield Business Journal recently named Diana Day of People Centric Consulting Group a member of its 2017 class of 40 Under 40. The award recognizes Springfield-area professionals for their civic and career-related accomplishments. Day will be presented her award at the 40 Under 40 ceremony at 5:30 p.m. on March 21 at the Ramada Plaza Hotel & Oasis Convention Center, 2546 N. Glenstone Ave. Tickets are $30 each and can be purchased at SBJ.net/4040.
"Receiving the Springfield Business Journal's 2017 class of 40 Under 40 award is an honor," said Day. She continued, "People Centric has such a motivating atmosphere on its own, but my role inspires me to succeed all the more because I'm surrounded by people who are devoted to fostering success and moving organizations forward."
Being a part of the 2017 Class of 40 Under 40 is only the latest accolade Day has received since joining People Centric's team of strategic planning consultants in 2013. She was also recently selected from three finalists as The Network's 2016 Young Professional of the Year. The Network is a Springfield-area organization exclusively for professionals under 40 who are interested in advancing their careers, filling leadership roles in the community, and building relationships with other business leaders. In 2015, Day was named one of Springfield's Most Influential Women by the Springfield Business Journal.
Day first joined the formal strategic planning and business consulting firm in 2013 as its business manager. As the company expanded, her position and expertise grew from administration to executive leadership. In 2016, Day was named the first non-owner C-level executive at People Centric and now serves as the company's chief business officer (CBO).
Day's primary responsibilities include conducting internal business communication, overseeing the company's strategic plans and managing its human resources department. Day also provides a leadership presence for staff, oversees employees' individual development and creates marketing and financial plans. In addition to Day's professional accomplishments, she is actively involved in the community. Day served as a member of the City of Springfield's Citizen's Advisory Committee for Community Development in 2015 and is currently a board member for the Springfield Symphony.
"We're grateful to have team members like Diana," said People Centric CEO Randy Mayes. "It is wonderful that other organizations are recognizing what we have always known about her. She's a valuable asset to the company and will do anything to inspire others and help our clients meet their goals."
About People Centric Consulting Group
People Centric Consulting Group's people are business experts. Founded in 2012, People Centric specializes in formal strategic planning, leadership development and coaching for a varying industries, from healthcare to manufacturing to nonprofits.
For more information about People Centric Consulting Group's services, contact Office Coordinator Bethany Bishop at bethanybishop(at)peopleccg.com or visit peopleccg.com.