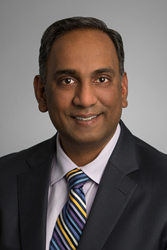 He has an intuitive sense of which lens to apply in each instance to provide the optimum solution.
Miami, FL (PRWEB) March 20, 2017
North American Title Insurance Co. (NATIC) has hired Tarek Sharif as Massachusetts state agency manager. In addition to other duties, he will oversee agency operations in that state while securing and servicing title agents to promote new and increased business activity.
"Tarek's superpower is his versatility," said Rich Griffin, NATIC vice president and national sales manager. "His diverse background provides him with a multi-faceted perspective on any situation, and he has an intuitive sense of which lens to apply in each instance to provide the optimum solution."
Prior to NATIC, Sharif was director of sales for LodeStar Software Solutions, coordinating sales and service across all 50 states. Previously, he served in various roles including manager of Towne Auction Company, operations manager for eTitle Agency and vice president, senior business analyst for a national title insurance company.
"I was attracted to NATIC primarily because of their customer-first attitude," Sharif said. "The company's focus on customer service, as well as its commitment to providing substantial marketing, educational and technical support is a great benefit for our Massachusetts agents. I look forward to reconnecting with old friends and making new ones, as we expand our footprint in New England."
Sharif earned his bachelor's degree in political science from the University of Connecticut and his Six Sigma Green Belt Certification from Villanova University Corporate Training.
He works out of NATIC's North Carolina office at 10150 Mallard Creek Road, Suite 505, Charlotte, NC 28262, and may be reached at telephone number (617) 306-3140 or tsharif(at)natic(dot)com.
About North American Title Insurance Co. (NATIC)
North American Title Insurance Co. (NATIC) is a seasoned title insurance underwriter, helping title agents to achieve the goal of true business success for over 50 years. NATIC conducts real estate settlement services in 39 states and the District of Columbia. NATIC earned the reputation as the "underwriter next door," because their decision makers and associates are easy to reach and their processes are quick and straightforward. The NATIC agency application process is fast and transparent for qualified agents. NATIC has a one-hour underwriting response guarantee that is unparalleled in the industry.
NATIC is in Peer Group 1, which groups companies with total assets of greater than $100 million as determined by Kroll Bond Rating Agency, Inc. NATIC is ranked 6th by The Performance of the Title Insurance Underwriters© in terms of cash or cash equivalents. NATIC maintains over $95 million* in cash and invested assets. This represents over 93 percent of the company's assets and is characteristic of the most important attribute to title protection, namely, financial responsibility. *As of 12/31/2015.
Demotech, Inc. awarded NATIC a rating of: A' (A Prime) Unsurpassed. A.M Best rated B++ (Good). NATIC is headquartered in Miami, Florida. To learn more, visit http://www.natic.com.
For more information contact: Kelly McCarel, c: 440.590.6504; e: kmccarel(at)natic(dot)com.