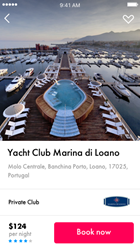 When a product helps people speed up difficult or tedious tasks in innovative ways, you can't help but support it.
San Jose, Calif. (PRWEB) March 16, 2017
In today's highly saturated mobile market, there's no shortage of apps that all do the same thing. It's a breath of fresh air, then, to see one steeped in innovation. Enter SailSmarter—the revolutionary new app for savvy boaters and yacht owners alike.
SailSmarter does exactly what its name implies. Catering exclusively to boat and yacht owners, the app leverages technology to simplify the trip planning experience. First-time users can sign up by providing their boat's details and specifications. They can then use the app to rent a boat slip or dock, or locate a slip in any yacht club they'll be visiting. Using advanced algorithms, the app swiftly pinpoints all available slips and docks that match a yacht's specifications. Moreover, users can reserve these spaces right then and there.
It's also possible to ask SailSmarter to propose a trip based on a specific geolocation. With a myriad of hot weekend escapes and tours integrated into its platform, the app makes it possible for users to rent slips on the spot. But whenever they do, they're bound to rack up some expenses such as fuel, water supplies, and lodging fees, right? It's true, but SailSmarter transparently lists them all so users can include these services and pay for them right from the app.
Brian Rickert, CEO of SailSmarter, couldn't help but show his enthusiasm. "It's going to change everything. We're single-handedly revolutionizing the entire luxury yachting/sailing industry, thanks to a simple app and the cooperation of yacht owners and clubs worldwide. They're just as excited as we are." When asked about a possible launch timeframe, Pederson remarked that his team intends to "iron out all the kinks" first. "We're planning to go live later this year, but we're definitely not making you wait. You can always subscribe to the waiting list at sailsmarter.com."
SailMater has already garnered the support of multiple investors including NSN Ventures. "We're extremely happy to back this fantastic product and team," said Nshan Ohanian, managing partner at NSN Ventures. "When a product helps people speed up difficult or tedious tasks in innovative ways, you can't help but support it."
Indeed, only time will tell if SailSmarter will live up to the hype and deliver on its promise. But one thing is for certain: it's providing a glimpse into the future of boating—a bright, mobile future that coalesces leisure time with technological convenience.
About SailSmarter
An unconventional app for the conventional boater, SailSmarter removes the hassle of trip planning so you can do more of what you love. Highly specialized and merging the best of mobile technologies, it eliminates the middle man and intelligently redefines how both luxury yacht and boat owners can travel and locate slips. By doing so, SailSmarter looks to the future with sophistication and is the quintessential companion app.