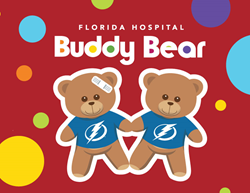 Together, with the Tampa Bay Lightning, we hope to educate fans in a fun way about pediatric health.
TAMPA, FL (PRWEB) March 17, 2017
Florida Hospital and the Tampa Bay Lightning will celebrate the first ever Pediatric Health Night at the AMALIE Arena this Saturday, March 18th with the puck drop scheduled for 7:00 P.M. Florida Hospital and the Tampa Bay Lightning both carry a passion for children's health and well-being which resulted in these two organizations collaborating on this community awareness event. Florida Hospital is proud of their exclusive affiliation with Johns Hopkins All Children's Hospital that brings nationally ranked expertise and pediatric emergency care to each of our six emergency rooms. Additionally, Florida Hospital offers 24/7 access to on-site All Children's Specialty Physicians at Florida Hospital Tampa.
"Florida Hospital and Johns Hopkins All Children's Hospital are committed to providing a higher level of pediatric care for the Tampa Bay community. Together, with the Tampa Bay Lightning, we hope to educate fans in a fun way about pediatric health. Go Bolts!" said Mike Schultz, President and CEO of Florida Hospital West Florida Division.
The Lightning and Florida Hospital want to make an impression on all the kids in attendance to be proactive about their health but also create an environment that has health oriented fun filled activities for them to enjoy with their families. Starting on the plaza, kids and adults of all ages, can enjoy games and prizes by visiting the Florida Hospital tent. Balloon artists, face paint artists and an interactive slap shot game are just some of the highlights that will be happening before the game.
In addition, Fox Sun Sports will interview Dr. Michael Longley, a Florida Hospital Wesley Chapel Emergency Room Physician about pediatric health. During the game, a public service announcement will feature Dr. Alison Simpson, a Medical Director for Florida Hospital Tampa's Doc 1st ER 4 Kids.
As part of the night's festivities, Florida Hospital will be hosting a Buddy Bear Program that will distribute 2,500 customized Florida Hospital/Tampa Bay Lightning co-branded teddy bears to fans in attendance. For each bear distributed to Bolts fans, a "buddy bear" will be delivered to pediatric patients at Florida Hospital's in Tampa Bay. Fans that receive the teddy bear are encouraged to write an inspirational message that will be attached to the "buddy bear."
"We are pleased to be joining our great partners at Florida Hospital to help heighten awareness of pediatric health issues," Lightning CEO Steve Griggs said. "As a father, pediatric health is an issue that is very important to me and we look forward to helping make kids healthier in Tampa Bay. From pediatrics to heart health, Florida Hospital always does an excellent job of educating Lightning fans about their overall wellness."
About Florida Hospital West Florida Division
Florida Hospital, the West Florida Division of Adventist Health System, is a not-for-profit 1,295-bed hospital system composed of 9 hospitals including Florida Hospital Tampa/Florida Hospital Pepin Heart Institute, Florida Hospital Carrollwood, Florida Hospital at Connerton Long Term Acute Care, Florida Hospital North Pinellas, Florida Hospital Wesley Chapel, Florida Hospital Zephyrhills, Florida Hospital Heartland Medical Center Sebring, Florida Hospital Heartland Medical Center Lake Placid and Florida Hospital Wauchula. It also includes a free standing ER in Palm Harbor. Part of the Adventist Health System, Florida Hospital is a leading health network comprised of 26 hospitals throughout the state. For more information, visit http://www.FloridaHospital.com
Tampa Bay Sports and Entertainment, LLC
The 2004 Stanley Cup Champion Tampa Bay Lightning and the leasehold rights to the Tampa Bay Times Forum
were purchased by an entity controlled by Jeffrey Vinik in March, 2010. Shortly thereafter, Vinik also purchased the Tampa Bay Storm of the Arena Football League. Since acquiring these assets, Vinik has spearheaded a complete brand and business transformation of the teams and the arena under the banner of Tampa Bay Sports and Entertainment, LLC. The Lightning advanced to the Eastern Conference Final of the Stanley Cup Playoffs in 2011 and the Times Forum received a $42 million renovation later that summer. The following summer the organization announced plans to install a new center-hung scoreboard, that is larger than any other arena in the United States and Canada. Under the new ownership and management group, the fans have responded, more than doubling the team's season ticket base. In 2016, ESPN named the Lightning the No. 1 team in all professional sports in its annual "Ultimate Standings", which ranks organizations on a number of factors, including affordability and fan accessibility. Vinik and the rest of his management team continue to move the organization forward with eyes on success on the ice as well as a world class organization off it.