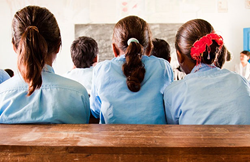 Education is the key to breaking cycles of poverty and enabling individuals to become happy, productive, and contributing members of society.
Brookville, New York (PRWEB) March 24, 2017
Last month, development staff at Puppy Water Entertainment approached Crowdster about a project they had in mind (and the pieces of that puzzle they had yet to secure). Nurturing a growing relationship with the global women's empowerment movement, Girl Rising, Puppy Water Entertainment needed event management and event marketing support to plan screenings of the movement's central piece of media, the documentary picture "Girl Rising." It took nothing more than the chance to exchange services with another enterprise and support a global movement to shatter gender gaps in education and work opportunities to win over Crowdster's attention and commitment.
Directed by Academy Award-nominated director Richard E. Robbins, "Girl Rising" presents an answer to the myriad obstacles women and girls face across the world in areas of equal opportunity and access to education. The film journeys around the globe to witness the resilience and strength of the human spirit as well as the power of education to change the world. The movement demands real, global change to "create visibility for girls, spread the word, gain knowledge, and give the movement for girls' education personal meaning."
Crowdster CEO Joe Ferraro shares, "As a father to six daughters and a missionary who supports orphans - both girls and boys - the mission of Girl Rising is critically important to me. Education is the key to breaking cycles of poverty and enabling individuals to become happy, productive, and contributing members of society."
Puppy Water Entertainment's own Princess Okieme is thankful for the chance to offer Crowdster some public relations support in exchange for Crowdster's marketing expertise, explaining that "every strategy requires collaboration between partnerships."
The movement's website asks anyone who supports the rights of millions of young women and girls denied access to education due to cyclical, extreme poverty and pervasive sexism to "share the film with your daughters and sons, neighbors and colleagues." That is precisely what Crowdster plans to do. Plans are underway to host a screening of "Girl Rising" on Long Island University's Post campus – which also houses Crowdster's headquarters – in May, along with a parallel campaign to raise money for the movement from the greater Long Island community.
Why does the public's support count? Every purchase of the film, rights to publicly screen it, and a portion of tickets to attend directly fuel Girl Rising's movement and programs around the world! Stay on the lookout for details about future screenings produced by Crowdster and Puppy Water Entertainment. Interested in hosting a "Girl Rising" screening? The Girl Rising website has a page for that!
About Crowdster
Founded in 2007, Crowdster is focused on supporting non-profit and for-profit social enterprise organizations to help them achieve their mission. That support is delivered by a powerful online fundraising platform combined with advanced fundraising marketing services including creative services, event planning, email marketing, and other digital marketing services.
About Puppy Water Entertainment
Puppy Water Entertainment is an exclusive boutique PR firm in Los Angeles that represents extraordinary individuals and non-profits in both the performing arts and entertainment field. Highly selective in who and what it represents, Puppy Water Entertainment maintains a very limited client roster, enabling it to address each of our client's PR issues with a unique, effective, and tailored approach. Puppy Water Entertainment strives to bring the most rare and sensational talent to the forefront of society. The firm also provides limited pro-bono services to humanitarian organizations and non-profits in need of PR to assist in their mission to eliminate global conflicts and address social issues.