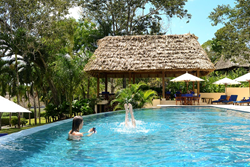 coming here is...actually easier and as affordable as many holidays in the US
San Ignacio, Belize (PRWEB) March 21, 2017
Southwest Airline's inaugural direct flights to Belize means that with one international and one short local flight, travellers can breakfast in Denver, enjoy a late lunch in Belize and spend the afternoon swimming and lounging around an infinity pool in the midst of a tropical rainforest, The Lodge at Chaa Creek's social media coordinator reports.
"Compared to just a few years ago, it's amazing how quick and easy it is to go from the hustle and bustle of a city to relaxing in a pristine jungle environment, where the sounds of parrots and toucans replace traffic noise, and the nights are lit by fireflies instead of neon," Jared Bradley said after welcoming the first direct Denver to Belize flight March 13 2017.
Mr Bradley was posting after the first non-stop Southwest Air flight, with 143 passengers aboard, landed at Belize's Philip S.W. Goldson International Airport where a celebration was earlier held to send off the Belize to Colorado direct flight.
According to a Caribbean Journal report, the service will be offered weekly, on Saturdays, until June 4, 2017, when it will be expanded to Saturday and Sunday through to August 14. The direct flights leave Denver at 10.30 am and arrive in Belize 2.50 pm, local times. The flights to Denver flights depart Belize at 1.15 pm to arrive in Denver 6.00 pm.
"It's the latest boost in airlift for Belize, which is one of the fastest-growing tourism destinations in the Caribbean by stayover passenger traffic," The Caribbean Journal reported, quoting data from the Caribbean Tourism Organization indicating that Last year, Belize saw 13 per cent growth in arrivals last year.
Mr Bradley agreed that the enhanced service is a boon for travellers and said that it will be particularly welcome by Chaa Creek's guests, especially in light of recent upgrades to Belize's domestic airport, which has been renamed the Sir Barry Bowen Municipal Airport and reopened November 2016 after a $17 million modernization project.
"With expanded air service to Belize, the improved domestic terminal, and local carrier http:// Tropic Air's airstrip at Maya Flats, which is literally at Chaa Creek's front door, our guests are reporting that coming here is a breeze, and actually easier and as affordable as many holidays in the US," Mr Bradley said.
"And where else can you enjoy canoeing tropical rivers, horseback riding along miles of jungle trails crisscrossing a 400-acre private nature reserve, exploring ancient Maya temples, learning about wildlife, Maya medicinal plants and identifying exotic birds with guided nature tours while enjoying a world-class spa and true farm-to-table dining at one of the best restaurants in Belize – all without leaving your eco-resort," he added.
Known as Belize's "Destination within a Destination" due to its many onsite amenities and activities as well as offering an extensive menu of tours, excursions and all-inclusive Belize vacation packages that include Rainforest to Reef packages allowing guests to combine a jungle vacation with a Caribbean beach holiday at some of Belize's finest seaside resorts, the Lodge at Chaa Creek is also one of the region's most highly awarded eco-resorts, having recently been awarded first place honours in its global category by National Geographic at the World Legacy Awards held in Berlin March 8, 2017.
Mr Bradley said that Chaa Creek proves that sustainable tourism and responsible travel can co-exist with a high degree of quality and service.
"We're all very proud of the recognition we've received, and what it means for guests is that with one easy flight they can have a complete, eco-luxe vacation that they'll feel good about. Knowing that 10% of their room revenue goes directly into environmental and community projects seems to make our guests sleep easier," he said.
"I'm sure a short, relaxing flight followed by a swim and a great meal also helps," he added.
The Lodge at Chaa Creek is a multi-award winning eco resort set within a 400-acre private nature reserve along the banks of the Macal River in Belize.
ENDS